Cooking on the Ridge: Pumpkin Bread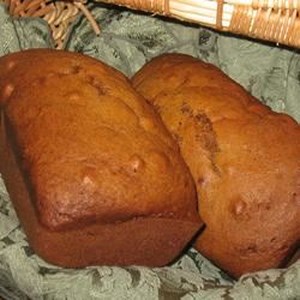 2 cups white sugar
1 1/4 cups light brown sugar
1 cup walnut oil
1 (29 ounce) can pumpkin puree
4 eggs
4 2/3 cups all-purpose flour
1 tablespoon baking soda
1 1/2 teaspoons ground cinnamon
1 1/2 teaspoons ground cloves
1 1/2 teaspoons ground coriander
1 1/2 teaspoons salt
1/2 cup cream sherry
1 1/2 cups chopped walnuts
Directions
Prep 20 m
Cook 1 h 5 m
Ready In 1 h 25 m
Preheat oven to 350 degrees F (175 degrees C). Lightly grease three 8×4 inch loaf pans.
In a large bowl, beat together white sugar, brown sugar and oil. Stir in the pumpkin. Mix in the eggs one at a time, beating well with each addition.
In a separate bowl, sift together flour, baking soda, cinnamon, cloves, coriander and salt. Stir dry ingredients into pumpkin mixture until smooth. Stir in cream sherry. Beat till thoroughly blended, 1 to 2 minutes. Fold in nuts. Spoon batter into 3 greased 8×4 inch loaf pans, filling no more than three quarters full.
Bake in preheated oven until a tester inserted into center of a loaf comes out clean, about 65 minutes.
Let stand 5 minutes in pans before turn out onto wire racks to cool completely. Can be kept at room temp. for 4 days or frozen.