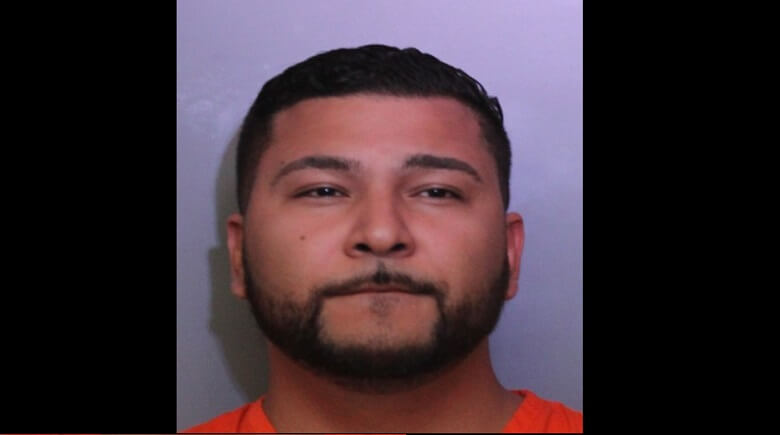 PCSO Release:
The Polk County Sheriff's Office has arrested a man for the October 6, 2018 hit and run of 74-year-old Larry Schlosser, who was struck while cleaning the roadside with other members of his community alongside of Old Lucerne Park Road in Winter Haven.
On Tuesday, October 16, 2018, detectives arrested 28-year-old Ricky Perez of 302 Citrus Landing Drive in Plant City, and charged him with Leaving the Scene of a Crash with Serious Bodily Injury (F-2) and Reckless Driving with Serious Bodily Injury (F-3). He was transported to the Polk County Jail.
Following a tip, detectives located the damaged 2018 Chevy Silverado pickup on Santa Rosa Drive in Winter Haven the day after the crash. Detectives then made contact with Perez, the owner of the truck, who was there visiting friends (he lives in Plant City). He denied driving the truck at the time of the crash, or knowing how the truck was damaged. PCSO detectives obtained a search warrant and seized the truck for forensic processing.
On October 8th, 2018, detectives made contact with 31-year-old Emanuel Fernandez, and confirmed through an interview that he was the passenger in the truck at the time of the crash. Fernandez also confirmed that Perez was the driver.
According to the affidavit, Fernandez said both men had been drinking in the hours prior to the crash, and Perez wanted to visit his mother's grave in Rolling Hills Cemetery.
The cemetery is located next to Four Lakes Golf Club where Mr. Schlosser resides, and where he and four other residents were picking up trash when he was injured.
The witnesses of the hit and run said the Chevy Silverado was speeding and weaving.
Fernandez said that Schlosser was wearing a traffic vest when he wa*filtered*, and when he told Perez that he hit a man and he needed to go back, Perez refused.
Detectives obtained access to Fernandez' cellphone, which contained text messages between himself and Perez from October 7th:
FERNANDEZ (9:21a.m.) : "There looking for ur truck"
PEREZ (9:47a.m.): "What you mean?"
FERNANDEZ: "Look at the Polk Sheriff Facebook page."
PEREZ: "Wow."
FERNANDEZ: "You seen it?"
PEREZ: "Yea that's crazy."
FERNANDEZ (3:04p.m.): "You gotta move your truck."
PEREZ: "I already moved it."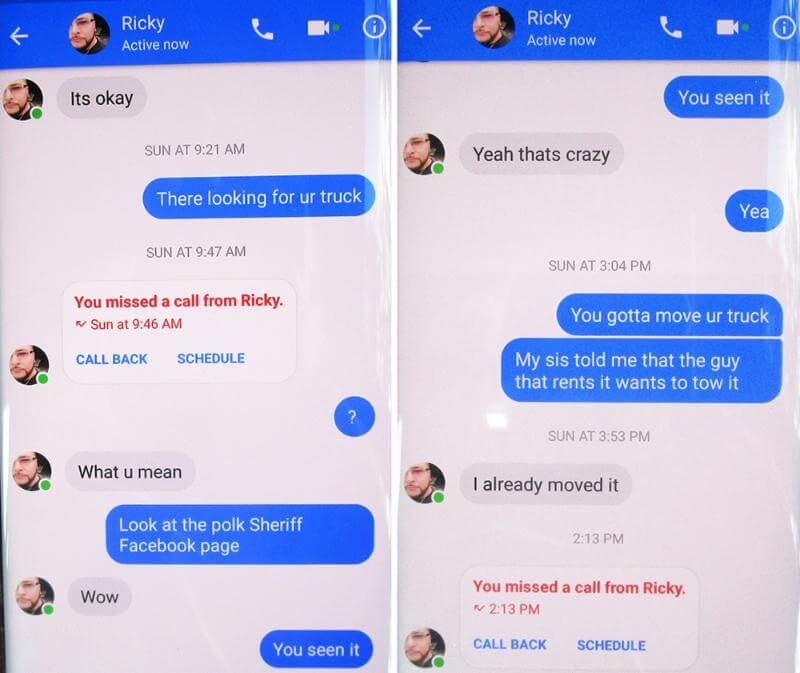 "Credit goes to the eye-witnesses who were able to give great descriptions of the truck and driver, and to those who provided us tips and valuable information, because the driver clearly wasn't doing what was right. People saw something, and said something. Now we can only hope and pray that Mr. Schlosser can make a full recovery." –Grady Judd, Sheriff.
Larry Schlosser remains hospitalized in critical condition.
Ricky Perez has a prior criminal history of four misdemeanor charges (Allowing Alcohol/Drugs to Minors at an Open House Party(2), Possession of Marijuana, and Possession of Paraphernalia.