Man And Woman Of The Year Honored At Celebrate Winter Haven
by James Coulter
A cancer survivor and community leader were both honored as the Man and Woman of the Year at the 93rd Annual Celebrate Winter Haven event last Thursday evening.
As the annual meeting of the Winter Haven Chamber of Commerce, the evening dinner commemorated the hard work and effort that businesses and business leaders put forward to make their community a better place.
As such, the event honored two outstanding individuals, as well as two businesses, both large and small, that made the greatest efforts towards bettering the community.
The event started with the Winter Haven Chamber being presented with a 5-star accreditation from the U.S. Chamber of Commerce, the highest honor for any chamber.
The evening concluded with the passing of the gavel from Adrian Jones, Merlin Entertainment CEO, as the former Chamber Chairman to the new chairman, Kevin Ashley, Civil Trial Attorney at Peterson & Myers.
Even though Ashley was honored to be chosen to lead the chamber next year, he understood that he is standing upon the shoulder of giants, especially with the hard work laid out by the former chair.
"He has become, he is, a champion of Winter Haven…and we know that he will continue to be our friend and asset," he said.
The awards and honors presented that evening are as follows: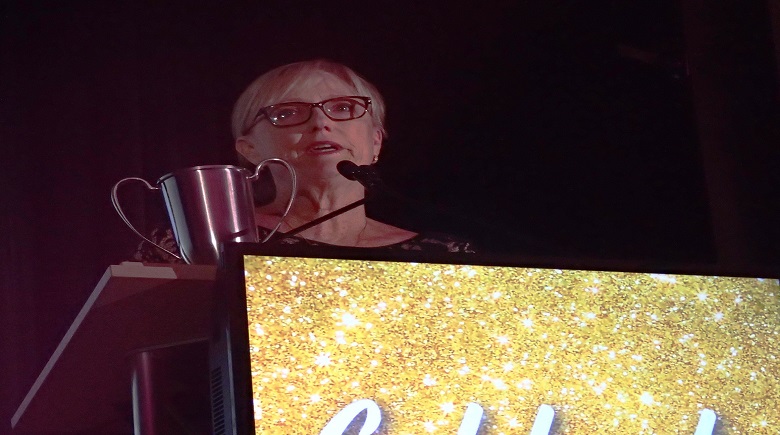 Banker Cup's Woman of the Year Award: Chris Hazelwood
Having overcome her own battle with cancer seven years ago, Hazelwood has used the time she has been given following her victory to help others through their own fight with cancer.
She has participated within various local events to help raise awareness for cancer and funding towards further awareness and research, helping organize events such as Relay for Life, The Cure Cancer Unity Ribbon Event, and The Pampering Event.
Within every one of her endeavors, she approaches the task at hand with a sense of humility and a drive to accomplish it to its fullest.
As such, her colleagues have described her as a loving, caring individual who is more than willing to help and encourage other people and doing so from a place of love and kindness.
When she was presented the award that evening, she could barely hold back her tears and say anything on her behalf, only insisting that she appreciates the honor given to her by friends and family that evening.
Banker Cup's Man of the Year Award: Greg Littleton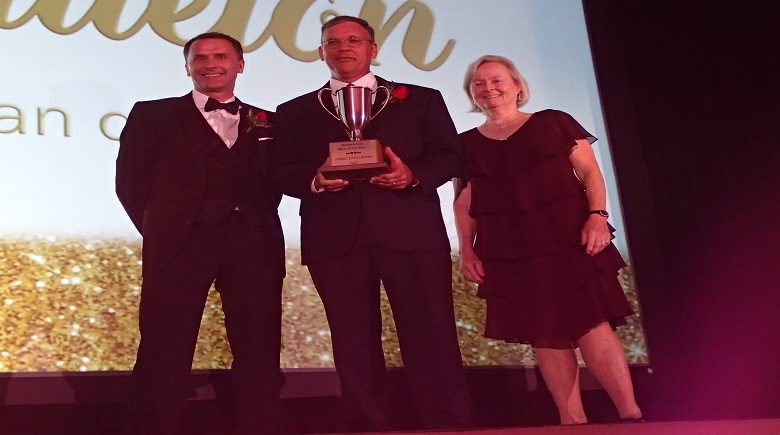 Born and raised in Polk County, Littleton lives to serve his local community, and he hopes to continue doing it until the very end.
"I was born here, and I hope to die here," he said.
When not serving as the president of Citizens Bank and Trust, Littleton has been serving his community through countless organizations, including the Winter Haven and Lake Wales Chamber of Commerce, Central Florida Economic Development Council, Lake Wales Art Council, Polk State College, and Polk Museum of Art.
Through his participating within these organizations, his efforts have helped ensure that future generations have the opportunity for a better life within the county through art, education, and economic development.
Such dedication to local service requires rolling up one's sleeves, which is something that his fellow colleagues attest to.
"He embodies the most important quality of a leader, which is integrity, which is displayed within the dedication to his organization," one colleague said during the video presentation.
Industry Award (Less than 100 Employees): Central Florida Media Group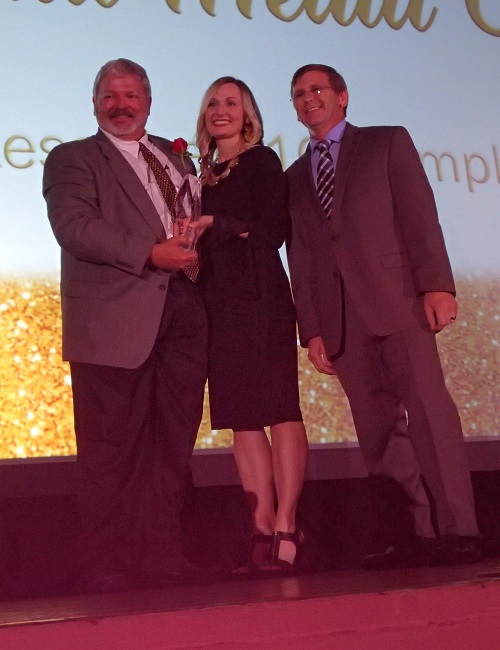 What started as a media organization with one employee nearly eight years ago has since expanded to nine employees and 38 contract employees.
As someone who garnered his media experience working for the prestigious New York Times, Nelson Kirkland decided to take the experience he had gained in the Big Apple and bring it down to the Big Orange.
"I could have gone anywhere after leaving the NYT office," he said. "I came to Winter Haven because it is the best place to be. I came to Polk County because it is the best place to be."
What has set his own media organization apart from all others has been their focus on niche markets such as healthcare and agriculture, with publications dedicated to promoting local markets.
This promotion expands far beyond the media, as they started the Central Florida Farm Tour to allow tourists and visitors from around the world a chance to take a close glimpse at the local farms and what they have to offer.
Serving the community thusly to them is not an obligation, but a privilege, as it is their own personal ethos that the community that serves you the best deserves to be likewise served by you.
"First of, Thank God, his fingerprint has been on everything that we have done…since we started in March 2010," Kirkland said. "Every day I see it."
Industry Award (More than 100 Employees): Bond Clinic
Founded in 1948, Bond Clinic is one of the oldest businesses in Winter Haven, and it will soon be celebrating its 70th anniversary.
What started as a small healthcare clinic with four providers has since grown and expanded its outreach with more than 90 providers and 500 employees.
Such growth serves to further their mission to provide affordable and accessible quality healthcare to the local community, especially during a time when healthcare access proves to be the greatest local issue.
"Many would say that is a lofty goal they are doing, but through diligence and teamwork, they continue to make it a reality for Winter Haven," said Greg Littleton, who presented the award that evening. "That goal, coupled with the determination to support the community through time, talent, and treasure has given them the opportunities and new relationships."
CEO Dr. Panagiotis "Panos" Iakovidis firmly believes in their mission in providing the community with better access to affordable, quality healthcare, something that he understands could not be possible without the support they receive from their community.
"Our goals would not be obtainable were it not for our partners who work with us and share our vision. I would like to thank them for their cooperation," he said.