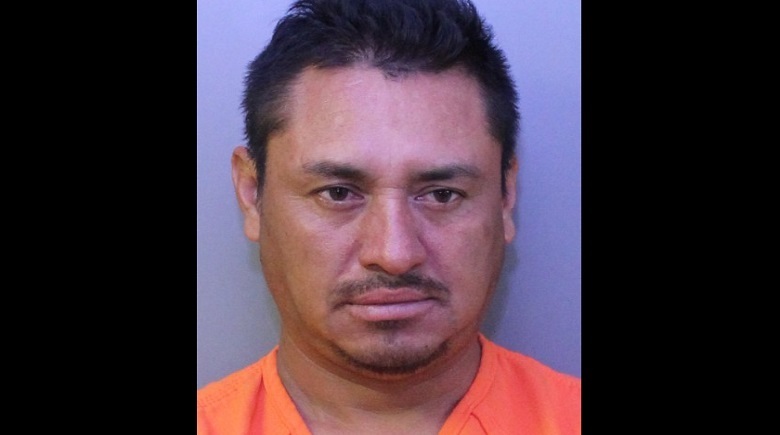 PCSO Release:
On Saturday, August 25, 2018, Polk County Sheriff's Office deputies arrested a man from Mexico for Driving Under the Influence, after a hit and run crash near Bartow. 
The man arrested identified himself as 
38-year-old Saul Munoz 
Moran
, but deputies discovered this was an alias he has been living under, and his real name is Fernando Camacho Perez.
Deputies were first notified of a problem at around 10:07 p.m. Saturday, when 
Moran's
 pickup truck was reported to be swerving all over the road near Alturas. The witness was able to provide a tag-number for the truck, location updates, and then a collision, in which 
Moran
 struck the rear of a car that was stopped at a red light at
 Highway 60 East and Alturas Road.
The witness stopped to aid the other motorist, as 
Moran
 fled from the crash scene.
The driver of the vehicle which was hit by 
Moran
 was 41-year-old Edmaliz Escalante Rivera, of 201 Highland Drive, Lake Wales. Rivera was not injured.
Deputies caught up to 
Moran
 at Highway 60 and Prairie Mine Road in Mulberry, and conducted a traffic stop. 
Moran
 told deputies that he was heading home, and recently drank a six pack of beer, but denied being involved in a crash. Eyewitnesses, physical evidence, and a failed field-sobriety test provided deputies with enough probable cause for 
Moran
's arrest. 
At the Polk County Jail, 
Moran
 refused to provide a breath sample, telling deputies he didn't have a license that could be suspended. 
"There is no regard for the law or even for human life with this person. He's a danger to everyone, and we're going to do everything we can to keep him off of Polk County roads."
 – 
Grady Judd, Sheriff.
Moran
 was charged with DUI with Property Damage (M-1) and No Valid DL (M-2) and Leaving the Scene of a Crash (M-2). His prior criminal history includes one felony charge (concealed firearm) and four misdemeanor charges (Discharge Firearm in Public, Driving Under the Influence, Traffic Offense, and No Valid DL). 
Due to Moran residing in the United States illegally, the U.S. Immigration and Customs Enforcement initiated a hold on him.