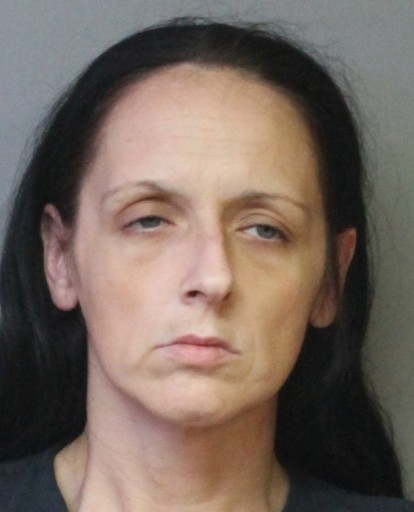 Tara Thompson was arrested on June 26 during a retail theft investigation at the Lowes on Highway 98 North in Lakeland after deputies learned she had an active warrant for failing to appear for work release stemming from a petit theft charge with prior conviction. Upon her arrest, deputies found 8 credit/debit cards with different names in her purse. Thompson initially told detectives they were pre-paid cards. When asked if she knew the names on the cards, she stated one person lived at her house and other cards were mailed to her address.
Deputies subsequently searched her house on Parker Street West in Lakeland where they found notebooks and pieces of paper which listed several names, personal identification numbers, social security numbers, bank account numbers and other important information. Contact was made with 10 victims discovered during the search who stated they did not know or give permission to Thompson to have their information in her possession. Thompson admitted to having stolen merchandise at her house, including a Wal-Mart merchandise scanner, an anti-theft device countermeasure tool, an activated Staples Card which belonged to one of the victims, and a home video surveillance system. Detectives eventually identified 16 victims including individuals and financial institutions.
Due to Thompson being in possession of multiple victims' personal identification forms without their consent, she was charged with unlawful possession of Personal ID (5 or more). She was also charged with Criminal Use of personal ID for using a victim's personal identification to activate a Staples Store Credit Card, as well as receiving bank checks in a victim's name changed to her address.
Thompson was also charged with Grand Theft (2 counts) for having stolen goods and for possessing a victim's bank check with Thompson's own signature. She is also charged with one count of scheming to defraud a financial institution after submitting applications six times to open new bank accounts in other peoples' names.
"I appreciate the hard work of our investigators in this case to hold Ms. Thompson accountable for her multiple thefts and fraud. We are going to continue to work with our local retailers and financial institutions to fight retail theft and financial ID theft." Grady Judd, Sheriff.
Thompson has an extensive criminal history: (Florida) Petit Theft, Grand Theft, Criminal Use of Personal ID, Burglary of Dwelling, Artifice to Defraud a Financial Institution, Forgery, Utter Forged Instrument, Scheme to Defraud; (Kentucky) Theft of Identity of Another, Contempt of Court, Shoplifting; (Ohio) Receiving Stolen Property, DUI, Attempted Theft, Theft, Possession of Criminal Tools, Taking Identify of Another, Forgery, Auto Theft, Obstructing Official Business, Trespass; (Tennessee) Theft of Property and Trespass.
Thompson was booked into the Polk County jail and then released after posting a $9,000 bond.