S.T.E.A.M. FORWARD Camp in Haines City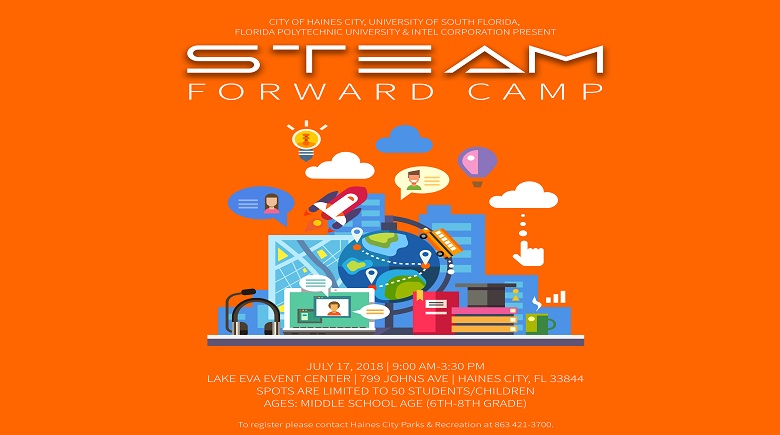 HAINES CITY, FL –The City of Haines City in partnership with the University of South Florida, Florida Polytechnic University and Intel Corporation present S.T.E.A.M. FORWARD Camp for local middle school-aged children passionate about computer technology, engineering, gaming, programming, and robotics.
S.T.E.A.M. (Science, Technology, Engineering, Arts and Math) camp is July 17, 2018, 9:00 am-3:30 pm at Lake Eva Event Center located at 799 Johns Ave, Haines City, FL 33844. The one day camp will include a light breakfast and a lunch sponsored by KFC Auburndale by Mr. and Mrs. George and Seretha Tinsley. Registration is FREE; however, spots are limited to 50 students/children.
The purpose of this camp is to introduce students to professionals in the S.T.E.A.M. career fields, learn about education and relevant career paths, and engage in a variety of hands-on activities and challenges to enhance collaboration and problem-solving skills.
S.T.E.A.M. professionals develop innovative, user-friendly products, such as smart home systems, face recognition, driverless vehicles, and robots, to help us live more advanced lives than ever before. This growing field needs young visionaries who are passionate and determined to create trending innovations of the future. S.T.E.A.M. FORWARD Camp is designed to ignite and explore this passion in the young leaders of tomorrow.
Students will have an opportunity to experiences the excitement of drones, computer programming, and a chance to win three laptops. To register or for more information, please contact Haines City Parks & Recreation at (863) 421-3700.