Registration now open for St. Paul's vacation Bible school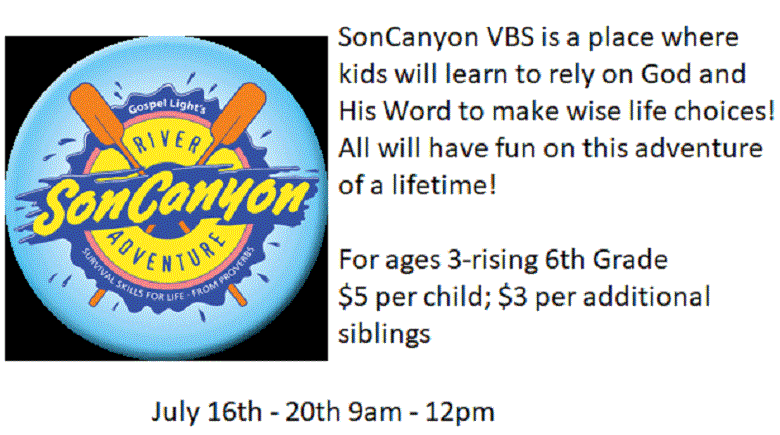 WINTER HAVEN, FL – St. Paul's Episcopal Church of Winter Haven is now accepting registrations for its summer vacation Bible school (VBS). The fun-filled program takes place July 16 to 20 from 9 a.m. to noon each day. Children ages 3 through rising sixth grade are welcome. The church is accepting donations of $5 per child and $3 per additional sibling for the entire week. Registration is available online at www.saintpaulswinterhaven.com or by calling (863) 294-8888.
St. Paul's Episcopal Church has been holding summer vacation Bible school for the past seven years. It is directed the church Children's Director Callie Head. Youth Director Sarah Head who is a Polk County elementary school teacher assists. She was recognized as Teacher of the Year in 2017 at her elementary school in Lake Wales. St. Paul's Rector Fr. Paul Head, his wife Callie and daughter Sarah, and many members of the church organize and conduct VBS, which includes much adult supervision.
This year's theme is SonCanyon River Adventure! SonCanyon VBS is a place where kids will learn to rely on God and His Word to make wise life choices! Survival skills for life are taught from the Proverbs. Each adventure-filled day includes a Bible story, lesson, Bible memory verse, craft, outdoor skill, song, snack and skit. Lessons will teach children to follow God's instructions, choose friends wisely, make peace, show respect and trust Jesus.
St. Paul's campus will be transformed to a whitewater adventure for the week! Indoor adventures include improvisational whitewater rafting, hiking, camping, and other thrilling activities one might expect to find on a real canyon river adventure! There are outdoor activities as well, weather permitting, on the beautiful church grounds.
All families are welcome back for Celebration Sunday on July 22, where children will perform songs and share experiences from the week!  A family tubing trip on the Wekiva River north of Orlando takes place on Saturday, July 28 for parents, children, siblings and extended family and friends of those participating in the SonCanyon VBS. There is an additional fee for this optional activity.
All children are welcome at St. Paul's VBS regardless of faith, ethnic background or ability to donate.
St. Paul's Episcopal Church is located at 656 Avenue L NW, Winter Haven, FL 33881. For more information, please visit www.saintpaulswinterhaven.com or call 863-294-8888.