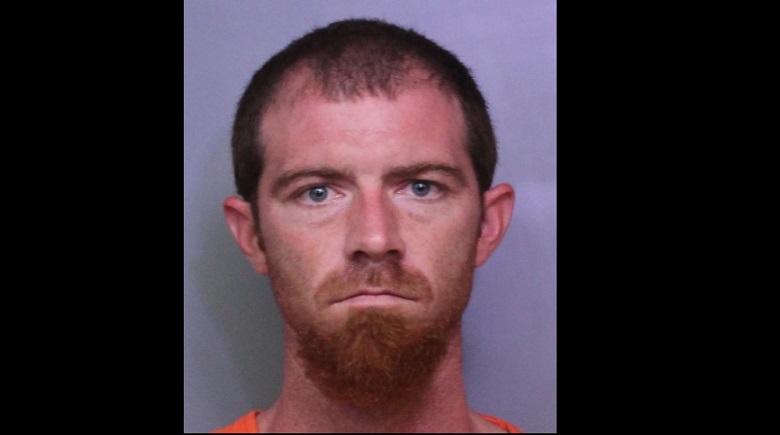 PCSO Release:
During the early morning hours of Monday, May 14, 2018, PCSO deputies patrolling the US Hwy 92 East area of Lakeland arrested 30-year-old Joshua Wesley Robertson, who has an active warrant for his arrest, and found a trafficking amount of meth and drug paraphernalia in his truck.
According to the affidavit, around 2:30 a.m. this morning, deputies made contact with the driver of a truck in the parking lot of the Bradley Motel, located at 3208 US Hwy 92 East in Lakeland. The driver had just gotten out of a red Ford truck that was registered to a registered sex offender (Robert Rogers) who has a curfew between 10:00 p.m. at 6:00 a.m.
When deputies asked Robertson who he was and asked for his identification, and then told him who the truck was registered to, Robertson laughed and said the truck's owner was a friend of his who lets him use the truck at night because he cannot, due to his curfew. When deputies checked Robertson's identification, they learned he had a warrant for his arrest for revoking his pretrial release on a domestic battery charge. Robertson also made a statement that he's had a string of bad luck lately.
While searching Robertson, they found a piece of paper in his pocket that looked like a ledger, with names and numbers. A canine team responded, and the dog alerted to the presence of narcotics inside the truck. A search of the truck revealed a backpack that contained the following:
Three bags containing: 19.98 grams of Meth, 0.80 grams of Meth, and 0.45 grams of Meth
Two bags containing: four Alprazolam (Xanax) pills, and two Hydromorphone (Dilaudid) pills
A digital scale
A plastic spoon
Three bags containing unused small Ziploc-style bags
Swabs and a straw
Another list similar to the one in his pocket, with names and numbers
A court snapout sheet for Joshua Robertson with case number 2018MM-002721 with a court appearance date for May 15, 2018.
"Good news – Joshua Robertson will make his May 15th court appearance. Bad news – he'll have a whole new slew of charges. I'd say he hasn't had bad luck lately – I'd say he's been making bad decisions." – Grady Judd, Sheriff
Robertson, whose last known address is 2910 Hickory Rd in Auburndale, was booked into the Polk County Jail and charged with:
1 count Trafficking in Meth (F-1)
1 count Possession of Hydromorphone (F-3)
1 count Possession of Alprazolam (F-3)
1 count Possession of Drug Paraphernalia (M-1)
1 count Violation of Pretrial Release (M-3)