Have Your Health Questions Answered By A Leading National Health Expert
by James Coulter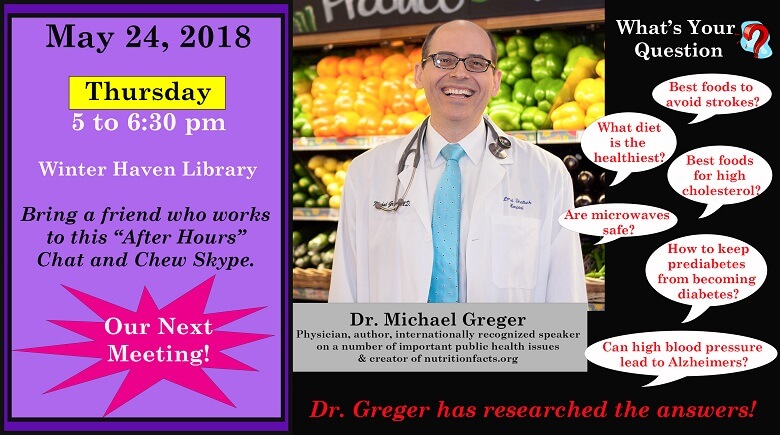 Is coffee healthy for you or not? What foods are the best for fighting high blood pressure? Diabetes? High cholesterol? Alzheimer's disease?
Learn the answers to all these health questions and more through a live teleconference chat with a professional health expert, hosted by Chat and Chew at the Winter Haven Public Library on Thurs., May 24, at 5 p.m.
Dr. Michael Greger, an American physician, has researched the answers to these questions and more, and has shared his findings through professional speaking events like this to help address such public health issues.
For more than a decade, he has read every research journal on health and diet, analyzed the data, ensured that it is reliable and unbiased, and translated his findings into simple language that the average layperson can easily understand.
Aside from speaking events such as this, he has also shared his research through numerous books, including his most popular "How Not To Die", as well as his own website, NutritionFacts.org.
This type of teleconferencing chat is often hosted by the local health advocacy group, Chat and Chew, in an effort to provide residents the opportunity to receive free health advice directly from the leading national experts.
While their events are often hosted earlier in the morning and afternoon, they decided to host this event in the evening to make it more convenient and accessible for people leaving from work, explained Cathy Thornhill, leader of Chat and Chew.
Chat and Chew is a local grassroots health study group in Winter Haven and Lakeland that helps provide access to resources and information about healthy living and eating as promoted through a predominately meatless, plant-based, and dairy-free diet.
The group offers such information through various free public events such as teleconferences with leading medical experts nationwide, as well as other activities including cooking classes, grocery store tours, and gardening lessons.
Many members come to their group seeking answers to their medical and dietary questions such as what food should they eat and which ones do they avoid, and events like this help them to gain their answers from reliable sources and individuals.
This upcoming teleconference chat will be their last one for the spring, as they will be taking a break over the summer and resuming their regularly scheduled events by October, Thornhill explained.
"What we encourage is that more plants on your plate bring more good things, so the more plants you can build on your plate, the better you are," said Thornhill. "A lot of members still eat meat and dairy, but the goal is to get more plants on our plate, and that is what we are all about."
One of their greatest success stories was that of Nanette Rodgers, nicknamed the Quinoa Woman, a local 80-year-old Winter Haven resident.
Rodger eats a mostly plant-based diet and takes no medication save for a B-12 vitamin supplement, and even in her advanced age, she has enough energy to not only run countless marathons, but even win them, according to an article in The Ledger.
Another success story involves a local resident who was previously diagnosed with prostate cancer. Upon learning from a cooking class that cheese has a link to prostate cancer, he decided to give up cheese and other dairy products. Six months later, and a doctor visit revealed no signs of his prostate cancer, Thornhill explained.
Since starting six years ago, their numbers have grown from a handful of ten members to more than 60 to 80 attending their events, Thornhill explained.
Part of their growth has been with their utilization of technology through social media, as they have more than 800 people on their mailing list, and have reached more than two thousand views through their livestream videos on YouTube, she further elaborated.
"I do not know of any other entity that is free to the public that is supported by community people and volunteers that provides this type of information to people…for what they can do to take control of their health," she said. "That is an example of the good things that happen to these people, and they make changes that are powerful because diet is powerful medicine."
Chat & Chew with Dr. Greger will be hosted on Thurs. May 24, at 5 p.m. at the Winter Haven Public Library, located at 325 Avenue A in Winter Haven.
For more information, contact Cathy Thornhill at [email protected], or visit their Facebook page: https://www.facebook.com/Chat-and-Chew-More-Plants-1578022735745353/