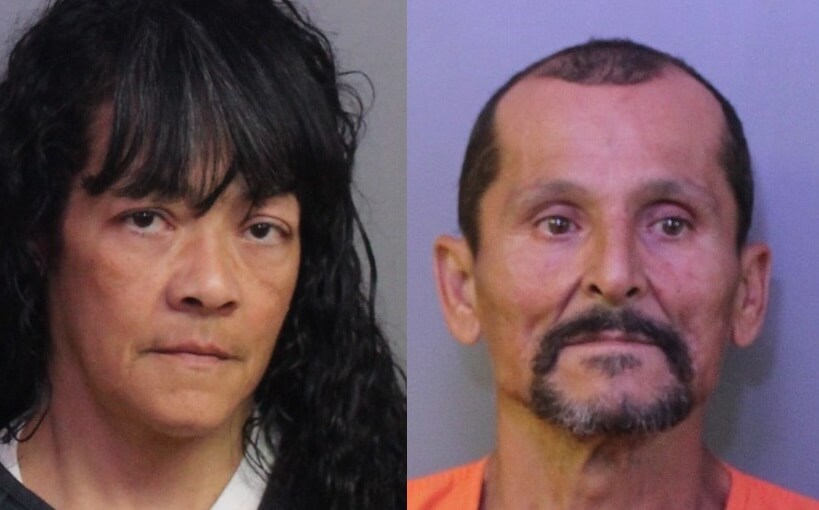 On Tuesday, March 6, 2018, the Grand Jury (10th Judicial Circuit) charged 49-year-old Melita Mendez of Winter Haven with first-degree murder of 31-year-old Kalia Joslin of Winter Haven. Mendez was previously arrested by Polk County Sheriff's Office deputies on November 6, 2017, for trafficking heroin (F1), conspiracy to traffick heroin (F1), selling heroin (F2), possession with intent to sell, deliver, or manufacture heroin (F2), use of 2-way communication device to commit a felony (F-3), storing drugs in a home (M1), two counts of possession of drug paraphernalia (M1), resisting arrest (M1), and possession of marijuana (M1).
She was taken into custody last night at her residence, 439 21St St SW in Winter Haven (she had previously bonded out on her trafficking in heroin charges on February13, 2018). Also arrested and taken into custody last night was her husband, 56-year-old Idlefonso Mendez Rios. He was charged with possession of methadone, possession of drug paraphernalia, possession of prescription medication without a prescription, resisting officers without violence, and served with a warrant for failure to appear at the Polk County Jail Weekend Work Release Program (Driving While License Suspended or Revoked, Possession of Heroin, Possession of Prescription Drug without a Prescription, Possession of Drug Paraphernalia). Mr. Rios was found hiding in a bedroom closet. While conducting a search, detectives found the methadone pills and drug paraphernalia (for which he was charged).
Melita Mendez admitted to detectives that she sold the heroin to Joslin, which resulted in Joslin's death.
According to detectives, the following is a timeline describing the investigation:
October 29, 2017: PCSO responded to an unresponsive female call, later identified as 31-year-old Kalie Joslin of Winter Haven-she was deceased on scene. Deputies found suspected heroin/fentanyl baggies and syringes in her bedroom. Joslin had one child, a 12-year-old son.
 October 31, 2017: Deputies collected and searched Joslin's cellphone. During the search, they found several text messages from October 28, 2017. It was apparent through the text messages that Joslin had been trying to contact "Tuti" to purchase $95.00 worth of heroin. Detectives discovered that Joslin and a witness drove to 626 Avenue E. SE in Winter Haven (Tuti's residence). Tuti went into Joslin's vehicle and sold $95.00 worth of heroin (6 baggies) to Joslin and a witness. The two split the heroin. Joslin made her way back to her residence (where she lived with her mother and father).
On this same day, October 31, 2017, deputies identified "Tuti" as 49-year-old Melita Mendez. An undercover detective made contact with Mendez and purchased $100 worth of heroin (6 baggies).
 November 3, 2017: The undercover detective purchased an additional $95.00 worth of heroin (6 baggies) from Mendez. Deputies conducted a search of Mendez' home and she was arrested for having 18 grams of heroin. During the investigation, Mendez admitted to deputies that she sold a potentially fatal dose of heroin to Joslin on October 28, 2017.
PCSO detectives sent the baggies of heroin (that were found next to Joslin when she was discovered deceased) and the baggies found in Mendez' home to the Florida Department of Law Enforcement Crime Lab. The lab results stated the baggies of heroin in Joslin's presence and the heroin found in Mendez' home tested positive for heroin. In early February, detectives received toxicology results from Joslin's autopsy indicating she tested positive for Fentanyl.
On February 22, 2018, detectives received the final autopsy report from the 10th District Medical Examiner's office and the official cause of death was ruled as "Heroin and Fentanyl Intoxication."
"This is how dangerous it is to become addicted to heroin, or any drug for that matter. Drug dealers are only concerned about making money, they don't care about how this drug can ruin someone's life. Thankfully, the legislation passed the new law encompassing the sale of heroin laced with fentanyl into the first-degree murder statute. Now, Mendez can be rightfully held accountable for her actions." Grady Judd, Sheriff
Melita Mendez has an extensive criminal history dating back to 1990 when she was 21 years old.
07/23/2016 – PCSO – failure to appear
02/23/2016 – PCSO – Knowingly DWLSR
01/16/2015 – PCSO – Knowingly DWLSR
08/13/2008 – PCSO – Failure to Appear
Pennsylvania Charges
 11/07/1997 – Whitehall PD – Retail Theft
New York Charges
02/17/1990 – NYCPD – Robbery with Deadly Weapon, Criminal Possession Weapon -4th with Intent to Use, Petit Larceny, Intent to Obtain Transportation without Paying Menacing
05/14/1990 – NYCPD – Robbery -1st Causing Serious Injury, Criminal Possession Weapon – 4th: Intent to Use, and Criminal Possession Stolen Property-5th Degree
On October 1, 2017, Florida State Statute 782.04(3)(g) became effective (adding Fentanyl to be classified under the First Degree Murder statute).