Local Couples Wed At 5th Annual Valentine's Day Group Wedding
by James Coulter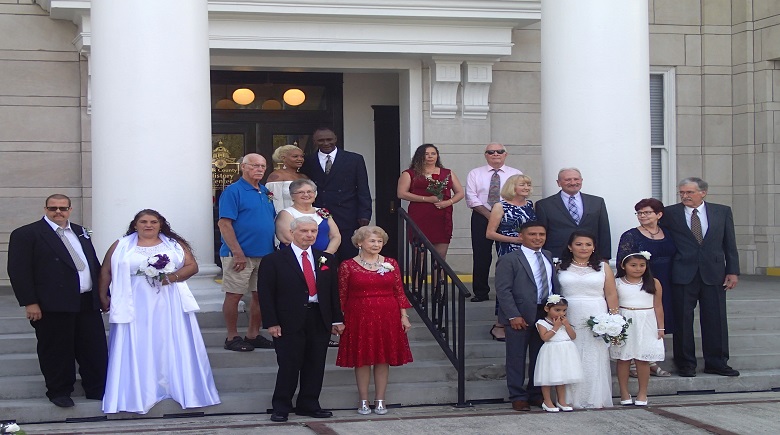 When Jason and Lucia Pendleton first met six years ago, their meeting was total coincidence.
"We met, we started talking, and one thing led to another and we are now together," explained Lucia.
However, rather than have a formal wedding, the two decided to cut to the chase and tie the knot by attending the fifth annual group wedding at the Polk County Historic Courthouse in Bartow on Valentine's Day.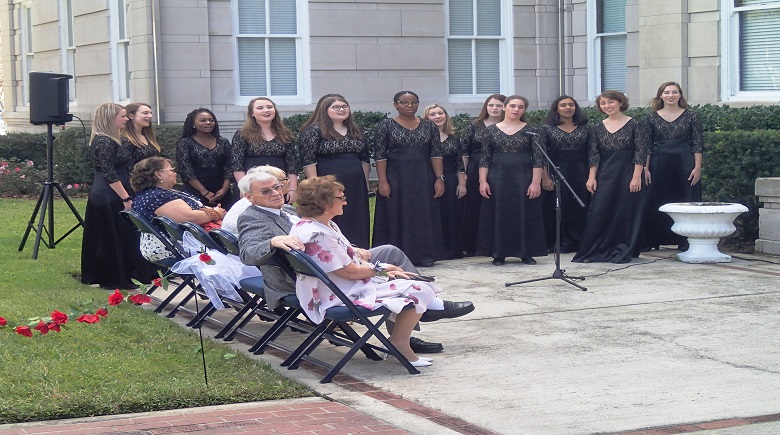 The couple met with less than a dozen others at the steps of the courthouse at noon where they exchanged vows and kissed for the first time as a married couple with their marriage being officiated by Stacy Butterfield, CPA Polk County Clerk of the Court.
After the ceremony, they gathered with the other couples at the second floor of the courthouse for a reception with cake and a toast with their family, friends, and other loved ones.
"It was a great and lovely experience," said Jason, who not only had the privilege of marrying on Valentine's Day, but also the birthday of his father.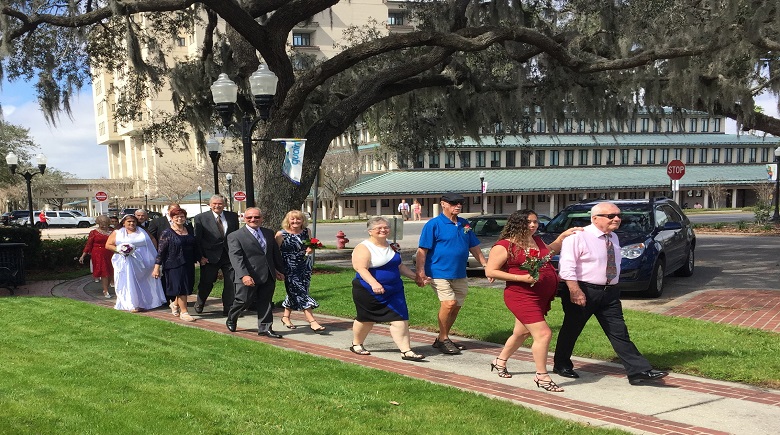 For many of the younger couples, this day marked the beginning of their lifelong journey together with hopefully better days ahead of them.
Wilder and Teodora Lopez had known each other for six years, and felt that it was the right time for them to make their union official, especially with their two daughters, Johanna and Lucita.
"I think it is the best step that I have taken in my life," said Wilder, whose favorite part of the ceremony was being able to accept his beloved Teodora as his wife.
For the older couples, this day allowed them the opportunity to join together with someone to spend the remainder of their twilight years together.
Both Manley and Nancy Nipe had previously been married and both had lost their loved ones. Now, after spending ten years together, they were finally able to re-marry.
"We were excited to do it, and it was a beautiful event," said Nancy. "It is a very special day to have friends and family here and be with other people."
Helping oversee the ceremony that morning was County Commissioner Todd Dantzler, who, having recently married off his own daughter a few days ago, knew of the joys the other couples felt that day.
"This is a special day for you folks as you pledge yourself to each other," he told them. "Today should be cherished and celebrated. This is a gorgeous setting for a wedding, and it is a joy for people to join in on your new start."
While this year's wedding was smaller with fewer couples participating than last year, it was by no means any less glamourous, as the overall beautiful weather added to the beautiful event.
"The weather was great, the couples looked so happy, so I believe the day was perfect," Butterfield said.
As the Clerk of Courts often experiences an influx of applications for marriages around Valentine's Day, Butterfield decided to host them all through one large mass wedding at the historic courthouse five years ago.
Since then, the group wedding has been going on strong, with many couples deciding to ditch the hassle of hosting their own individual weddings and instead get married with everyone else on that day.
Couples get to exchange vows on the steps of a scenic, historic location, enjoy a small reception with loved ones, and best of all, with no wedding ceremony fee, the entire event is free for them, Butterfield explained.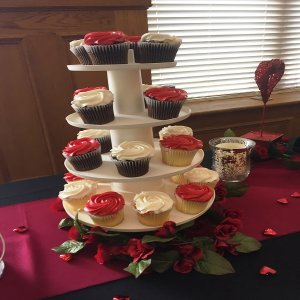 "It takes away any stress for planning," Butterfield said. "Our staff are fabulous when they start planning this. This is the highlight of the year because everyone is as happy as you can imagine."