Major County Sheriffs of America Installs New Executive Officers
Sheriff Judd Sworn in as President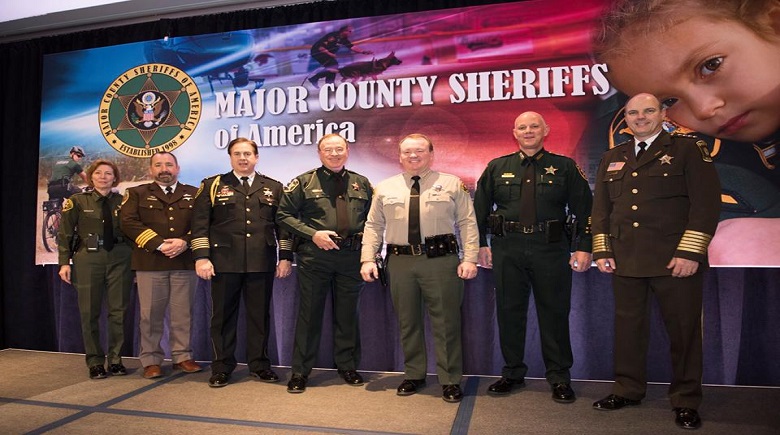 On Wednesday, February 14, 2018, the Major County Sheriffs of America (MCSA) installed a new group of executive officers who will serve in 2018-2019. The installation of new MCSA Executive Officers occurred at the MCSA Winter Meeting held in Washington DC. The Sheriffs are:
President: Sheriff Grady Judd, Polk County, Florida, 1891 Jim Keene Blvd, Winter Haven, FL 33880, (863) 298-6647
Vice President: Sheriff Jim McDonnell, Los Angeles County, California, 211 West Temple Street, Los Angeles, CA 90012, (213) 229-3005
Vice President – Government Affairs: Sheriff Michael J. Bouchard, Oakland County, Michigan, 1200 North Telegraph Road, 38E, Pontiac, MI 48341-1044, (248) 858-5001
Vice President – Homeland Security: Sheriff Rich Stanek, Hennepin County, Minnesota, 350 S 5th St, Room 6, Minneapolis, MN 55415-1316, (612) 348-2347
Secretary: Sheriff David J. Mahoney, Dane County, Wisconsin, 115 W. Doty Street, Madison, WI 53703, (608) 284-6170
Treasurer: Sheriff Bob Gualtieri, Pinellas County, Florida, 10750 Ulmerton Road, Largo, FL 33778, (727) 582-6206
Immediate Past President: Sheriff-Coroner Sandra Hutchens, Orange County, California, 550 N. Flower Street, Santa Ana, CA 92703, (714) 647-7080
"It is an honor to have been chosen by my colleagues, the Sheriffs of the largest agencies in the nation, to lead the Major County Sheriffs of America. As leaders in the MCSA, Sheriffs must demonstrate strength, courage, confidence, and leadership while protecting the best interest of the citizens we serve to lead the way for a safer America. We will work hard to ensure best practices are determined pursuant to professional research and time tested protocols; as well as guaranteeing the delivery of services with a sense of urgency to the American people based upon what is right and not what is politically expedient." Sheriff Grady Judd, Polk County, Florida
"The demands placed on law enforcement in 21st Century policing require new strategies, greater resources and legislative support. Law enforcement are the first responders to society's ills whether it be mental illness, addiction or emerging crime trends. We must work together and learn from one another, and advocate for the necessary investment in fighting crime in all of our communities. This is why I am honored to represent the Los Angeles County Sheriff's Department and serve as Vice President of the Major County Sheriffs of America." Sheriff Jim McDonnell, Los Angeles, California
The Major County Sheriffs of America (MCSA) is a professional law enforcement association of elected Sheriffs representing counties or parishes with 500,000 population or more. MCSA is dedicated to preserving the highest integrity in law enforcement, corrections, and the elected Office of the Sheriff. MCSA's membership represents over 100 million Americans, and works to promote a greater understanding of strategies to address future problems and identify law enforcement challenges facing members of the organization. Click,here for more information.