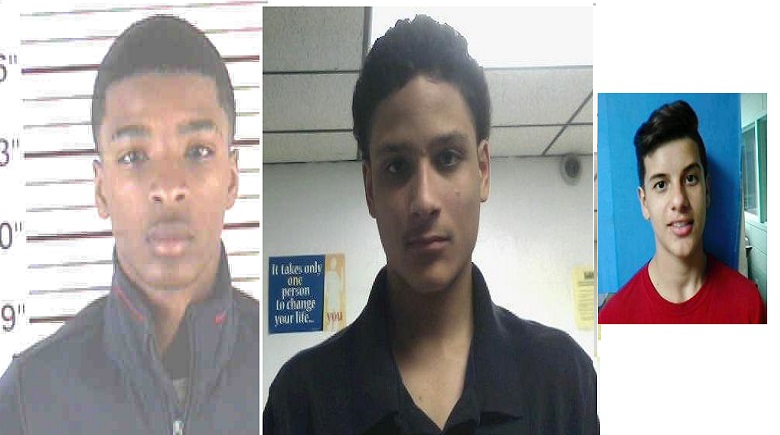 PCSO Release:
Between Wednesday, January 17th, and Friday, January 19th, 2018, PCSO Robbery detectives arrested three teenagers and charged each with armed robbery (Felony Life), and conspiracy to commit armed robbery (F-2), for robbing an Uber driver in Winter Haven on January 14, 2018.
During the investigation, PCSO detectives spoke with a juvenile probation officer, who told them 
15-year-old Felipe Fernandez 
was believed to be involved in robberies over the weekend in Bartow and Winter Haven. (
Felipe is also the suspect identified and arrested this week by Bartow PD for an armed robbery and battery of an elderly person.)  
Felipe Fernandez was questioned by detectives with the Polk County Sheriff's Office and Bartow PD, during which he admitted to the separate robberies being investigated by PCSO and BPD. 
Felipe's confession led to the identification of additional suspects involved with this armed robbery, 
15-year-old Jamion Bibbs of Lake Wales
 and 
15-year-old Anthony Velez of Lakeland. 
Felipe also confessed to kicking in the door of a home on Lake Dexter Drive in unincorporated Winter Haven on January 14
th
, and committing an occupied burglary (see below excerpt from that affidavit) and was additionally charged with armed burglary (F-1), grand theft (F-3), and aggravated assault (F-3) by the PCSO detectives investigating that incident.
According to their affidavits, the victim, an Uber driver, was vacuuming out his car due to someone having been sick inside of it, around 3:25 a.m. that morning, at Ron's Car Wash on Cypress Gardens Blvd in Winter Haven, when a burgundy Chevy Malibu pulled into the car wash, and two armed suspects got out. One of the suspects held a gun to the victim's head and demanded money, while the other suspect pointed his gun at the victim from a distance and encouraged the first suspect to "blow his brains out."
After robbing the victim of his cash, wallet, and personal belongings, the suspects fled the scene in their car. The victim followed them from a safe distance and eventually flagged down a passerby to use their phone and call law enforcement (his cell phone was stolen during the robbery). The victim described the two armed suspects as teenagers, one wearing a jacket and a bandanna covering his face, with light skin and curly hair, and one wearing a hoodie.
Detectives questioned Bibbs, who 
told detectives he was with Fernandez and Velez at the Shergill Hotel in Winter Haven (where Bibbs lives with his mother) during the evening hours of Saturday, January 13, 2018. The trio decided to go "driving around" when they saw the victim vacuuming his car. Fernandez drove the car, while Bibbs and Velez committed the armed robbery. The victim's stolen cell phone was found in Bibbs' bedroom.
Detectives arrested Velez at George Jenkins High School on Friday, January 19
th
. Detectives learned Velez was placed on probation on February 4, 2017, for grand theft auto, carrying a concealed firearm, arson, and possession of drug paraphernalia. He was additionally charged with delinquent in possession of a concealed firearm (F-2), and VOP (M-2).
Velez's criminal history includes prior arrests for:
Battery on detention personnel, carrying concealed firearm, grand theft auto (several), corruption/threat against public servant, resisting arrest, arson, burglary, trespassing, petit theft, possession of marijuana and paraphernalia.
Fernandez's criminal history includes prior arrests for:
Carrying concealed firearm, possession of firearm or ammo by convicted felon, battery on education employee, fraud, trespassing, criminal mischief, grand theft auto (several), vehicle burglary (several), petit theft (several), grand theft (several), possession of marijuana.

Bibbs' criminal history includes prior arrests for:
Affray, disturbing the peace at a school function.
"These three boys, only 15 years of age, are already committing dangerous and violent crimes. It is our intent that they be charged as adults. We cannot allow the juvenile justice system to give them a slap on the wrist and release them back into society – they've demonstrated that they are committed to a life of violent crime, and the only good thing about this story is that they didn't kill someone."
 – 
Grady Judd, Sheriff
FELIPE FERNANDEZ'S BURGLARY AFFIDAVIT:
On 01/14/2018 Detectives responded to Lake Dexter Circle in reference to a burglary of a residence. The victims advised that when they arrived at their residence they determined that the front door had been kicked in. They looked in the residence and observed a white male that they did not know in the living room of the residence. They then observed the subject to produce a hand gun and point it at them. They were in immediate fear for their safety and fled the residence jumping the fence in the back yard and fleeing to Cypress Gardens Blvd. The suspect was later identified as Felipe Christian Fernandez W/M 12/28/2002.

It was determined that two televisions, three laptops, one iPad, one pair of American Eagle pants, one pair of black Adidas shoes, a BB gun, and American Eagle VR goggles were missing from the residence. 

On 01/17/2018 while conducting a separate investigation Detectives were advised that PCSO Robbery Detective Escheu was in possession of property that was believed to be related to the burglary. Detective Escheu provided a picture of VR goggles and a BB gun. The victims viewed the property and advised that the property was theirs, stolen during the burglary. The property was recovered from Fernandez. 

Detectives made contact with Fernandez and conducted a post Miranda interview. Fernandez advised that he entered the residence with the intent to steal property that he could sell for some extra money. Fernandez advised that he took the VR goggles, the BB gun, and a pair of American Eagle pants. Fernandez advised that he was preparing to leave the residence after taking the property when the victims arrived home and saw him in the residence. Fernandez advised that he produced the BB gun and began to yell at the victims and told them to stop and that they better get out of the house. Fernandez advised that the victims were so scared that if he told them to get on their knees that they would have fallen immediately. Fernandez advised that he then fled the residence and went back to his hotel room. 

Based on the evidence recovered and the statements of the victims and suspect I find that probable cause exists to charge Fernandez with the afore mentioned charges.