Local Artists Recognized At 68th Anniversary Fine Art Exposition
by James Coulter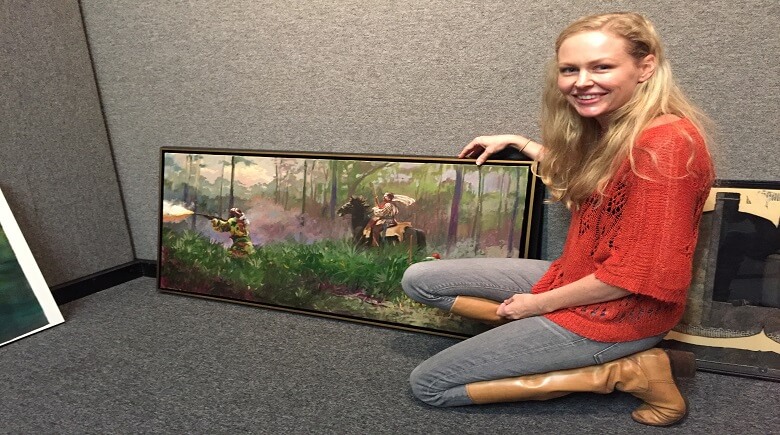 As an eighth generation Floridian, Lake Wales artist Blair Updike appreciates her home state's rich history and desires to share it through her art.
"I feel that we are too into tourist-y culture and we are not [presenting] the real Florida," she said.
To help share the real Florida, she created a series of historical paintings last year, one of which depicts a scene from the Seminole War, with several warriors sneaking through a grassy wood.
Her painting won Best of Show at the judge's critique of the 68th Anniversary Fine Art Exposition at the Ridge Art Association (RAA) in Winter Haven on Saturday.
Updike also won Best of Show at last year's expo. As someone who has been painting since high school and had recently returned to her craft four years ago, she has improved in her craft through her love of learning and trying new things.
"She has a lot of emotion in her work," said Christy Hemenway, RAA Executive Director. "That helps because everything I see that she has done, we can actually see the passion."
Updike's painting was one of 118 art pieces submitted to this year's expo, and one of the 84 that were selected for the judge's critique on Saturday.
Her painting, along with the other award-winning pieces, will be displayed in the gallery at the Winter Haven Chain of Lake Complex until Jan. 21, with a reception hosted on Jan. 6 from 6-8pm.
Since 1950, the RAA, according to its website, has set "to educate and promote understanding of the visual arts and to sponsor cultural events within the community."
"We have beautiful work here," said Hemenway. "If you are a patron of the art, and you come and look at artwork, and it can make you feel better, or it can make you feel empathetic about what is going on, it is a very good thing."
Here is a list of the other artists and paintings showcased in this year's expo: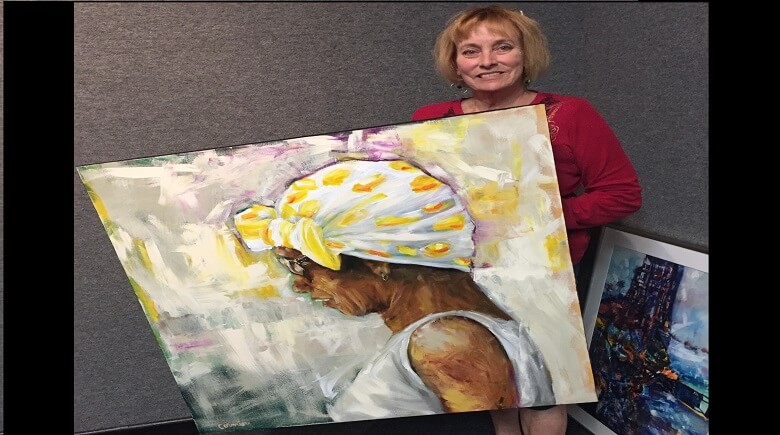 2nd Place: "Miss Pearl" by Jean Cormier.
This portrait is based on a real person who used to frequent the beauty shop next to the office where Cormier works.
Having taken up painting following a 35-year hiatus, Cormier loves to paint portraits of random expressions and faces that she sees.
"People interest me," she said. "I see an emotion, I want to paint it."
This is her fifth year entering the expo, and the second award she had won. She previously won an award of excellence.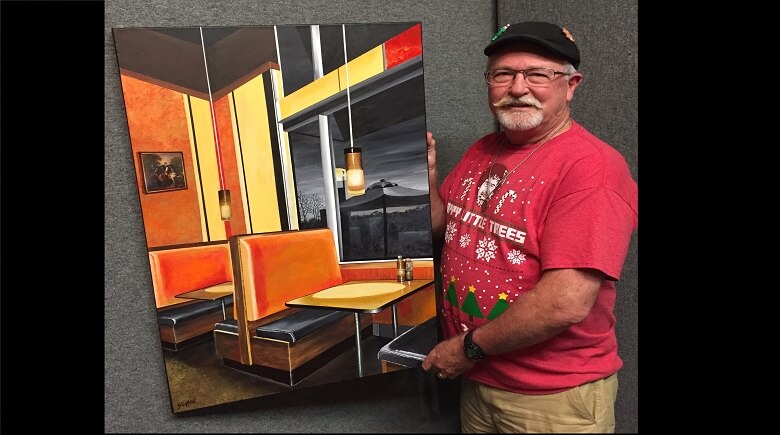 Honorable Mention (Mixed): "Each Stood Up Each Other" by Preston Stafford.
Portraying the corner booth at an empty restaurant, this painting presents an overall warm yet alienating feeling, with the grey and dreary outside contrasting with the bright colors indoors.
Having participated for the past ten years, Stafford has won numerous awards. In every instance, he always gives credit to the One who deserves it most.
"I am a religious person, and I do attribute every bit of this to God," he said. "It is a blessing that he blessed me with. You have to have it from somewhere, and he gave it to me."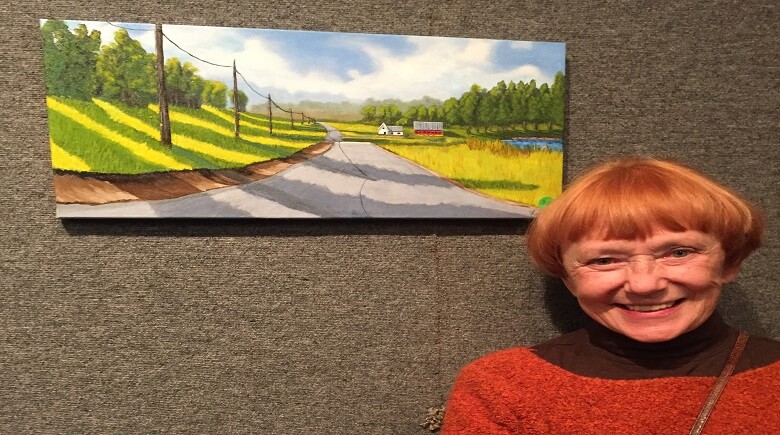 Honorable Mention (Acrylic): "Late Afternoon" by Sharon Creedon.
As someone who started painting since 2012, Creedon always had a desire for art, but was often told by her friends to stick with her day job.
After retiring, she began developing her new art skills though art classes and with the help of local artists.
Through such help, she has not only been able to develop her own skills, but to gain the confidence to start entering and even winning art shows.
"It is very, very difficult," she said. "You can tell by the quality of the work. And to actually get all three of my pieces in is amazing."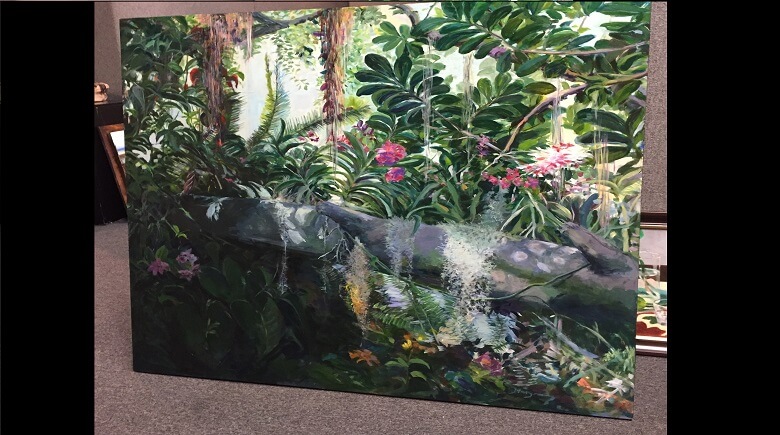 Award of Excellence (Acrylic): "Tropical Fantasy" by Janet Montgomery.
As someone who paints mostly landscapes, Montgomery wanted to challenge herself by painting a tropical landscape, and decided to start with the tropical section of the National Botanical Gardens in Washington D.C.
"I wanted to do something complicated," she said. "I was intrigued by backlighting. I love the play of light and dark, and I really was intrigued by the detail. "
Montgomery had graduated with a bachelor's of art from the University of Maine. This is the first time winning at the Fine Art Expo, which she has been entering for the past four years.
The following art pieces were also recognized, but their artists were not available for comment:
Third Place: "Empty Bottle" by Greg Jones.
Award of Excellence (Watercolor): "Jazzing it Up" by Dana Daydodge.
Honorable Mention (Watercolor): "Town Houses on the Water" by Ginny Brown.
Honorable Mention (Acrylic): "Water Front" by Evelyn VerHey.
Marquardt Family Sculpture Award: "Ivory" by Larry Elshoff.