HCSO Sergeant Enters Burning Home to Rescue Elderly Man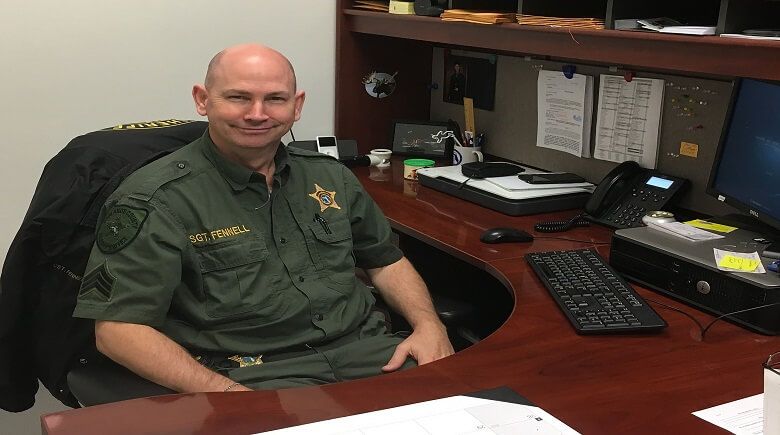 SEBRING — On Friday, Dec. 29, Sgt. Jeff Fennell was awakened by someone pounding on his door before 6 a.m. A newspaper carrier told him a home just a few doors down from his in Spring Lake was on fire.
Sgt. Fennell rushed to the home and, after learning that an 82-year-old man was still inside, went into the burning home, which by that time already had flames shooting through the roof.
Between the smoke and the darkness (the electricity had already gone out), Sgt. Fennell couldn't see anything, but yelled out to the man and crawled toward his voice. The man had been trying to leave the home, but his electric mobility scooter had been caught on something.
Sgt. Fennell, who oversees the Crime Scene Investigation unit, struggled to get the scooter loose, knowing that losing it to a fire would be an even further hardship to the man and his family.
"At one point, I told him one more pull and I'm taking you without the scooter," Fennell said.
He eventually got the scooter unstuck, but it still wouldn't roll, so he had to drag it the final feet to the front door. Sgt. Fennell said the rescue probably only took a couple of minutes total, but it felt much longer.
Firefighters said it looked like the blaze started as an electrical fire in an unoccupied bedroom. Nobody was injured in the fire, which took more than two hours to put out. The West Sebring, DeSoto City and Leisure Lakes volunteer fire departments all took part in the effort.
"Part of being a first responder is the willingness to put yourself at risk on the job," Sheriff Paul Blackman said. "Sgt. Fennell was not officially on duty when he found out about the fire, but he did his duty without second thought. He is a true hero who didn't hesitate to put his life on the line to save a neighbor."