EA SMILES INTRODUCES "GATOR BRACES"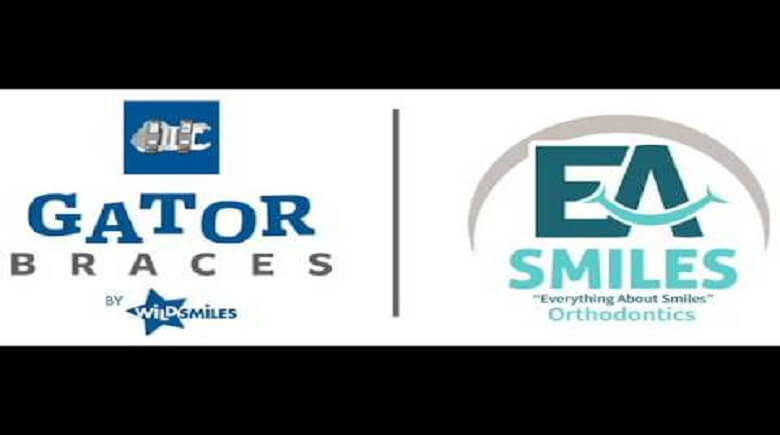 EA Smiles, the orthodontic practice of Dr Ilan Abramowitz knows it's great to be a Florida Gator. Just in time for football season, the practice is announcing the launch of collegiate-licensed "Gator Braces," designer braces in the shape of the Florida Gators logo.
"Gators fans are some of the most devoted and passionate fans in the country," said Dr. Abramowitz. "They love to show their team spirt on their shirts, on their backpacks and in their home. So why not show your Gator pride in your smile!"
Made by WildSmiles, Gator Braces are the newest in the series of designer Mascot Braces available at EA Smiles, all of which can be viewed at easmiles.com. WildSmiles Braces allow patients to showcase their individuality by selecting favorite shapes and colored elastics.
Gator Braces work the same way as traditional braces and are bonded to the upper two central teeth. Patients at EA smiles can then choose other shaped brackets like footballs or traditional brackets to complete their smile. Gator Braces are high quality and made in the USA. You can see the new design at easmiles.com/gator-braces.
"We are excited to be the exclusive provider of Gator Braces in Polk County," commented Dr. Abramowitz. "To celebrate the launch, we are hosting a special Gators Bonding day on September 14 at our Bartow office."
At the launch party, EA Smiles patients can enjoy a fun Gator experience and snacks during their bracket-bonding visit. New and existing patients can make reservations to be the first Florida Gators fans to sport their new Gators smiles. Call 863-533-3302 to make a reservation today. While EA Smiles offers free consultation and same-day bonding, new patients are encouraged to schedule a preliminary appointment.
EA Smiles has two convenient locations in Bartow and Winter Haven, open 8-5, Monday – Thursday. Ilan Abramowitz, DMD, holds a Certificate of Advanced Graduate Studies in orthodontics and is committed to providing families with the highest quality and most technologically advanced orthodontic treatment available.