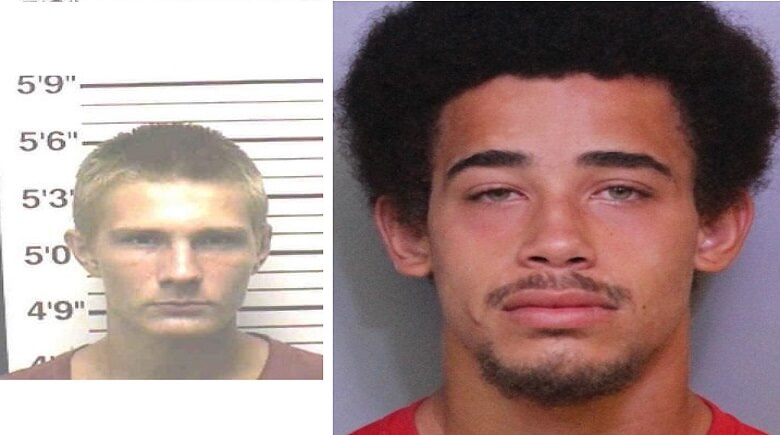 PCSO Press Release:
Polk County Sheriff's Office General Crimes Unit detectives arrested 20-year-old Devon Toothman of Auburndale for armed burglary, grand theft, and conspiracy to commit a conveyance burglary, and 17-year-old Richard Kroeger of Lake Wales for armed burglary, grand theft of a firearm, conspiracy to commit conveyance burglary, possession of tools to commit burglary, and dealing in stolen property, on Saturday, August 12, 2017, at approximately 2:08 a.m. A citizen in the Marianna Acres neighborhood saw Toothman and Kroeger breaking into his vehicle. He honked his horn at them and they ran from his home. He called deputies immediately and gave them a description.
PCSO deputies responded and caught the pair shortly thereafter.
According to the affidavits, Toothman and Kroeger told deputies they planned in advance to break into cars together. They admitted to entering multiple unlocked vehicles in the area of Cypress Shores Community and in the area of Oak Drive and Lake Marianna Drive.  During the course of the burglaries Kroeger stole a fully-loaded Glock27 from the center console of a truck, and held onto it while they committed other burglaries. Kroeger told deputies he was going to try and sell the firearm.
Kroeger was wearing a red bandanna to conceal his identity and rubber gloves to prevent fingerprint detection. Kroeger and Toothman stole a firearm, cash, cell phone cables and chargers, medical equipment, lighters, and cigarettes.
"We are constantly asking the public, when you see something, say something. We want to commend this alert citizen who saw something, and said something. Without him, we would not have captured these suspects so quickly. This is another example of one man who committed multiple crimes as a juvenile, who was released, and is still committing crimes. This other juvenile is not being held accountable for his crimes, and is still on the street committing crime and victimizing multiple people." – Grady Judd, Sheriff 
Kroeger and Toothman's criminal histories have a total of 13 felonies and 19 misdemeanors:
17- year- old Richard Kroeger
08/12/2017 – PCSO – VOP, Burglary (2 counts), possession of weapon/ammo by Fla, delinquent adult felon, grand theft of firearm, Possession of burglary tools, resist LEO by disguised Person
03/30/2016 – PCSO – Trespassing, VOP
05/22/2016 – PCSO – Burglary, Damage property, burglary, petit theft, grand theft of motor vehicle, VOP
05/12/2016 – LWPD – Petit theft, Resist LEO, simple assault, VOP
03/17/2016 – PCSO – Failure to appear
04/26/2015 – APD – Trespassing
02/25/2015 – APD – Trespassing
01/27/2015 – APD – Trespassing
12/16/2014 – APD – Petit theft
08/01/2014 – APD – Possession of synthetic marijuana, possession of drug paraphernalia
20-year-old Devon Toothman
08/12/2017 – PCSO – Grand Theft, armed burglary, conspiracy to commit burglary
07/08/2017 – APD – Possession of marijuana,  possession of drug paraphernalia, contribute to the delinquency of a minor
07/02/2016 – State Attorney's Office – Bartow – VOP
04/20/2016 – BPD – Petit theft
01/04/2015 – PCSO – Sex Offense – Victim Age 12 to 16
01/04/2015 – PCSO – Interfere with custody of minor incomp person
09/23/2012 – PCSO  – Battery
Toothman was booked in to the Polk County Jail on the above mentioned charges. Kroeger was taken to the JAC.