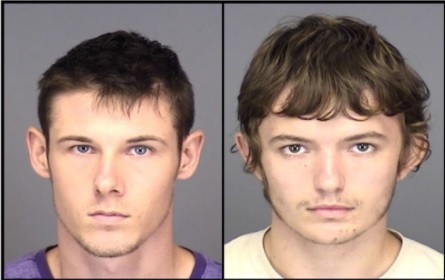 Press Release Highlands County Sheriff's Office
SEBRING — Two teenagers have confessed to shooting the windows out of more than 100 cars and nine businesses with BB guns during a month-long spree that began in late March.
Logan Patrick Lashley, 19, of Babson Park, and his 17-year-old cousin Reno Jay Lashley of Avon Park were arrested Friday, July 28, and charged with six counts of felony criminal mischief, nine counts of shooting into a building (a felony) and one count of misdemeanor criminal mischief. They turned themselves in on Friday, July 28, the same day arrest warrants were issued.
In total, there were 97 incidents (61 investigated by the HCSO and 36 by the Sebring Police Department) with 112 damaged vehicles and nine businesses damaged, resulting in more than $47,000 in repair costs. The District 10 Office of the State's Attorney in Sebring grouped the cases by date in order to upgrade the charges to felonies instead of misdemeanors.
Assistant State's Attorney Christine Pletcher said that statute allows for ongoing incidents to be grouped together and for the consolidation of victims to meet the criteria for felony charges. "Every victim has been accounted for," she said, adding that each victim will be eligible for restitution if the two plead guilty to — or are convicted — on all charges.
The pair were identified and confessed in early May. The sheer volume of paperwork associated with such a large number of cases took weeks to process, accounting for the delay in the arrest warrants being issued. Pletcher said the task of organizing the cases to determine time frames and completing all the documentation required to make sure every victim was accounted for was a huge undertaking for the state's attorney staff.
"This was a huge undertaking and it was solved by solid police work," Sheriff Paul Blackman said. "There were many deputies, police officers and detectives involved in these cases from the start, and it took more than 300 hours between the two agencies from the beginning of the investigation to the end. HCSO Det. Du'Wayne Kelly and Sebring Police Det. Tim Ritenour are to be commended for taking the lead roles and putting an end to this crime spree so quickly."
In total, HCSO logged more than 210 hours on the case, while SPD had 119 hours invested. That total does not include the hours spent by the State's Attorney staff.