Citizen's Guide to County Finances Now Available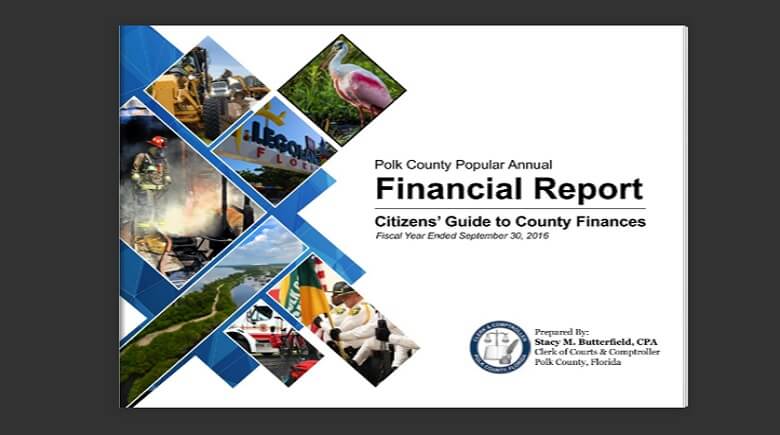 Bartow, Fla. (July 14th, 2017) – Updated information on the county's financial position is now available in the latest Popular Annual Financial Report prepared by Polk County Clerk of Courts & Comptroller Stacy Butterfield for the fiscal year ended Sept. 30, 2016.
The report includes financial information for the Board of County Commissioners and the five local constitutional offices – Sheriff, Property Appraiser, Clerk & Comptroller, Supervisor of Elections, and Tax Collector. It's designed to provide citizens with a brief analysis of where county revenues come from and how these dollars are managed.
Financial highlights for fiscal year 2015-2016 include:
Total Governmental Activities Revenues (excluding transfers and net change in fair value of investments) increased $33.2 million or 6.5 percent.
Property tax revenues increased $8.7 million or 4.8 percent, the third consecutive year increase.
Tourism tax revenues increased by $1.2 million or 13.2 percent.
The County's budget totaled $1.274 billion in 2016, an increase of only .5 percent.
Projects completed during the year include a $12.4 million road project on CR 559A, an $8.7 million parking garage for the Administration and Judicial complex and $15.4 million in upgrades and improvements to water treatment plants.
"As the Clerk & Comptroller, I'm committed to increasing accountability and transparency in county government," Butterfield said. "I remain committed to reviewing our county's finances each year and reporting the impacts to the community through this report so that residents know how their tax dollars were managed and spent."
Access the report online to discover more or request a printed copy by calling 863-534-4000. The report is available at www.polkcountyclerk.net under the "financial reporting" section.