With the long weekend of Independence celebrations behind us, many local youth are returning to their summer schedule of beaches, sun and fun. But for some, there is work to be done and a calling to answer. These are the youth volunteers and leaders of the Lake Wales Care Center's Stay at Home Work Camps.
The Lake Wales Care Center has been a pillar of the community for over three decades and has dedicated its resources throughout those years to helping the surrounding Lake Wales community and its residents that are in need. Their summer Stay at Home Work Camp shows their commitment to that ideal.
Local junior high and high school students, along with youth leaders and volunteers from the LWCC and a visiting group of volunteers from out of state, gathered together at last week's SAHWC, the second of four camps; to do roofing, fencing, painting and other tasks for those in the community that needed the work done, but otherwise couldn't do it or afford it themselves.
They even teamed up to help the H.E.A.R.T. Village at Warner University.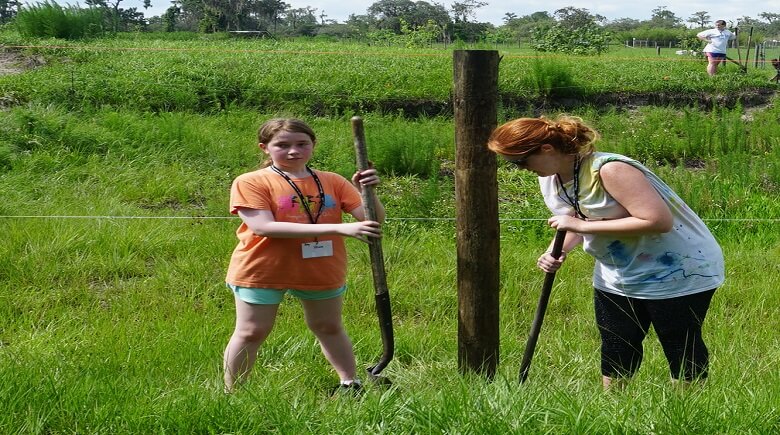 Several volunteers began the day installing posts and wire fencing for the water buffalo residing at the H.E.A.R.T. Village next to Warner University. Their Hunger, Education and Resource Training program is an interdenominational training course that is designed to prepare graduates to live and serve effectively when helping others in developing communities in different countries around the world.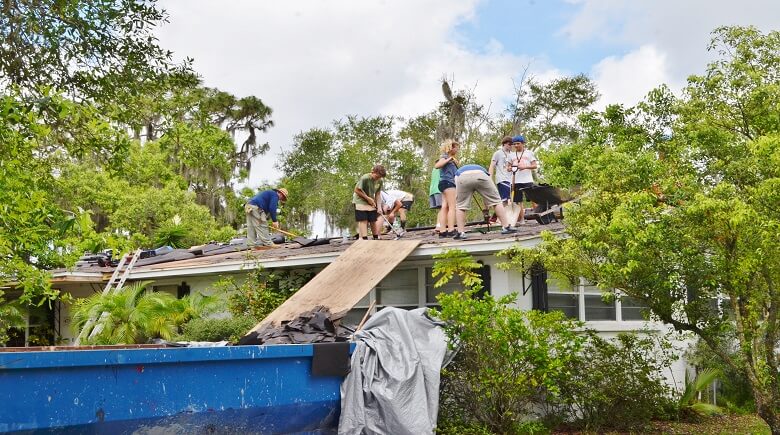 Another group of about ten volunteers braved the mid-morning heat to do some roofing in Babson Park for a veteran and retired construction worker named James Justice whose roof needed to be re-shingled. Joining with the volunteers on the roof, Rob Quam, LWCC Executive Director, worked side-by-side with the group as they removed the old tiles and tar paper on the roof and replaced them with new tar paper and tiles, giving Mr. Justice a much needed new roof.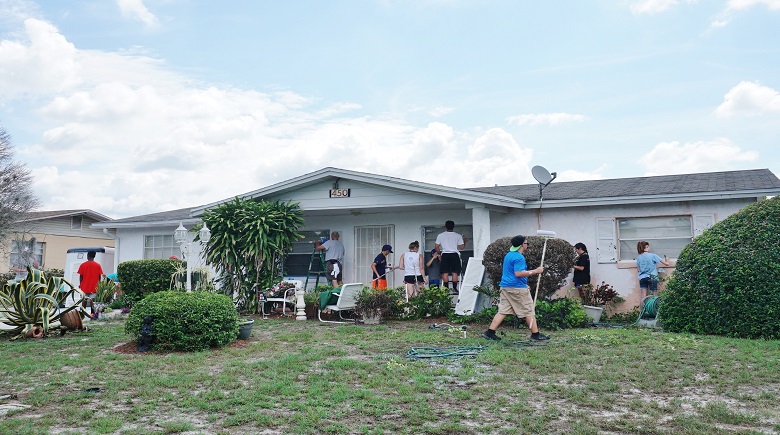 Two other groups of volunteers split up and set out to brighten up the day for a pair of homeowners with their painting skills as they teamed up to put a fresh look on two homes in the Lake Wales area.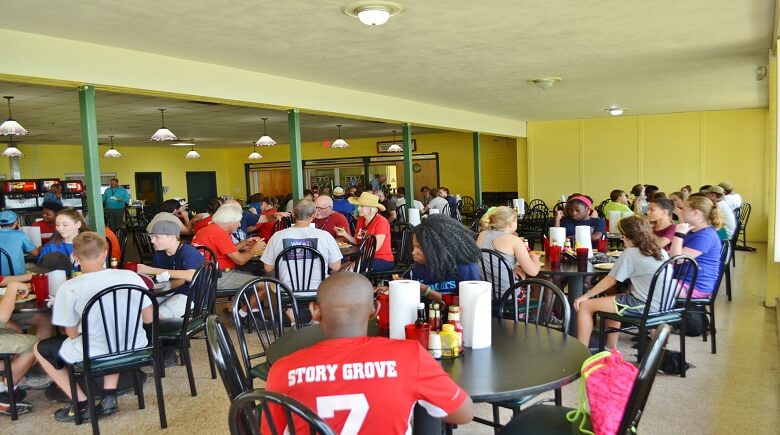 Around noon, with the temperature on the rise , the work camp groups took a break from their assignments to gather at Webber University for a lunch break, where they were met personally by Webber University president Dr. Keith Wade, who warmly welcomed them and graciously provided his campus cafeteria and a buffet of delicious food for the hard working volunteers.  After lunch, the volunteers re-grouped and headed back out to continue their work in the community.
On their website, the Lake Wales Care Center describes how their faith-based ministry is helping the community while providing guidance, faith and leadership skills to local youth.
"Our Stay at Home Work Camp (SAHWC) provides homeowners with work they would be unable to provide for on their own. Not only do campers complete work projects, they learn to work as a team and grow together during times of worship and fellowship.  Interactive lessons based on Biblical principles and emphasis on good character and leadership development are given in the morning and evening with experienced campers participating in the creation and delivery of the sessions. Many participants have been participating in SAHWC for years…."
"What started as a few individuals doing yard work for their neighbors in 1986, has now become a series of four camps each summer, hosting a total of over 350 students and leaders."
With over three decades of commitment to providing for those that are in need; The Lake Wales Care Center has continued to serve the local community with every resource they have, faithfully and without fail.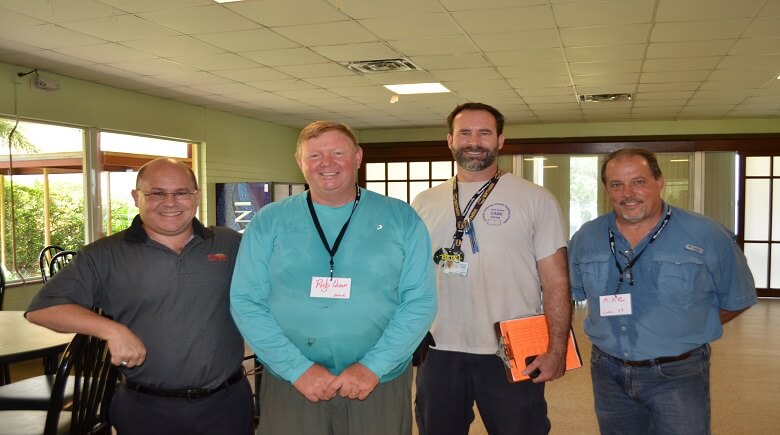 They sponsor programs that attend to almost any need you can think of.  To keep pace with the growing need, the LWCC depends on volunteering, donations, the sales from their Thrift Stores (New Location in LW Coming Soon!) as well as other support from local businesses and the community to continue to offer the many services and outreach programs that help those in times of need.
Helping is easy through volunteering, donating items you no longer need, shopping at one or both of their stores, even using smile.amazon.com to order from Amazon.com…Just select the Lake Wales Care Center from your lists of charities. The AmazonSmile Foundation will donate 0.5% of the purchase price from your eligible AmazonSmile purchases.
Services and programs listed on the LWCC website include such things as providing short-term financial assistance and tangible resources such as clothing, food and furniture for those who need them as well as hot meals delivered daily to area shut-ins. They also offer support for homeless families while they work through a structured program designed to help them "get back on their feet".
They offer a free clinic for community members without health insurance located at 210 Dr JA Wiltshire Ave in Lake Wales and provide support and appropriate services for women facing unplanned pregnancies.
Other programs provide food and gifts for families facing hard times or that are in need during the holiday season; they have a community kitchen for Fellowship and food for Sunday lunches; they offer Tutoring in basic subjects, such as math and reading, GED preparation, and English for Speakers of Other Languages; They let you grow your own fruits and vegetables at their community garden location or teach you how to plant a garden at your home.
They offer Internships for participants (ranging from high school, college and young-adult) to explore the various aspects of social ministry; they operate two thrift stores (one in Lake Wales; the other in Dundee) with a wide range of items like furniture, clothes, small appliances, housewares, etc. at reasonable prices and of course, there's the Stay at Home Work Camps for four weeks each summer.
As we head into the weekend, another Stay at Home Work Camp will begin….bringing both junior high and senior high students together; doubling the faith, fellowship, worship and leadership that will seek out and help those in our community that need it most. The Work Camp Schedule is posted below……
According to the LWCC website, there are still two weeks out of the four scheduled weeks of work camps still upcoming.
June 12 -17/ 9th – 12th grades (Completed)
June 26 – 30/ 6th – 8th grades (Completed)
July 10 – 15 / 6th – 12th grades
July 24-29 / 6th- 12th grades