43-year-old Thomas Griffin of Lake Wales was arrested by PCSO deputies this morning, June 22, 2017, after he had an altercation with a 17-year-old boy, concerning Griffin's daughter.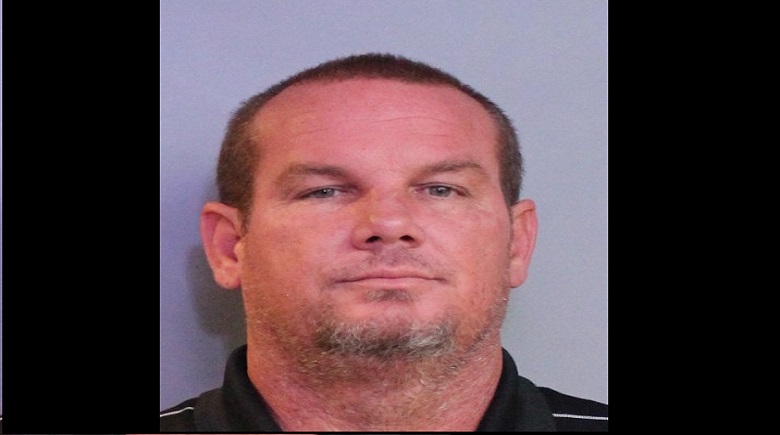 Thomas Griffin is a teacher at Lake Region High School in Winter Haven.
The following is an excerpt from the affidavit, and is self-explanatory:
On 06-22-2017 the suspect, Thomas Griffin, discovered that his daughter was not inside of his residence, therefore he checked the GPS location of her cellphone to discover she was in the area of a mobile home park on North Scenic Hwy in Lake Wales. The suspect recognized this location as an area where he had dropped her off to visit with friends a few weeks prior, therefore he responded to the same location to find his daughter. Upon arrival at the residence the suspect damaged the front porch gate, breaking all three hinges, preventing the gate from being opened, closed, secured, or to function as it is designed to do.
Upon arriving at the front door of the residence, the suspect opened the screen door and knocked on the interior door. The victim, who is seventeen years old, asked who was at the door. The suspect advised it was "…'s dad," therefore the victim opened the front door. When the victim opened the front door the suspect entered the residence, uninvited, and began asking where his daughter was. While inside the residence his daughter was located, at which time he instructed her to go outside to his vehicle. While still inside the house, the suspect grabbed the seventeen year old victim by the throat, threw him on the couch and stated if he goes near his daughter again he is going to kill the victim. The suspect then fled the scene.
Deputies located Griffin later that morning, and booked him into the Polk County Jail for one count burglary with assault (F-1) and one count criminal mischief (M-2).