Pineapple Teriyaki Burgers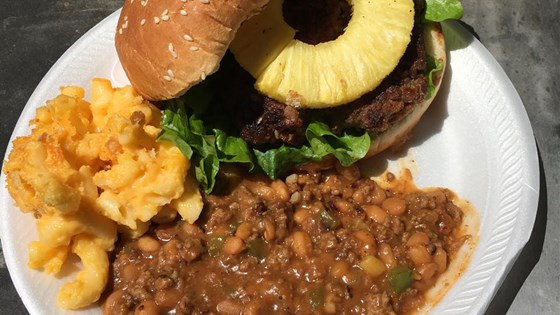 Directions
Prep 25 m

Cook 20 m

Ready In 45 m
Preheat the oven's broiler and set the oven rack about 6 inches from the heat source. Spray a broiling rack with cooking spray.

Place pineapple slices on a baking sheet and broil just until lightly browned, about 1 minute per side. Set the pineapple slices aside.

Thoroughly mix ground beef, bread crumbs, water chestnuts, teriyaki sauce, egg, minced ginger, Asian seasoning blend, onion powder, and garlic powder in a bowl; divide in half and form 2 large patties. Place the patties onto the prepared broiling rack.

Broil patties until burgers are browned and no longer pink inside, 5 to 8 minutes per side. An instant-read meat thermometer inserted into the middle of a burger should read at least 160 degrees F (70 degrees C).

Place half the lettuce onto the bottom half of each bun; top with a burger and a slice of pineapple. Place bun tops on sandwiches and serve.