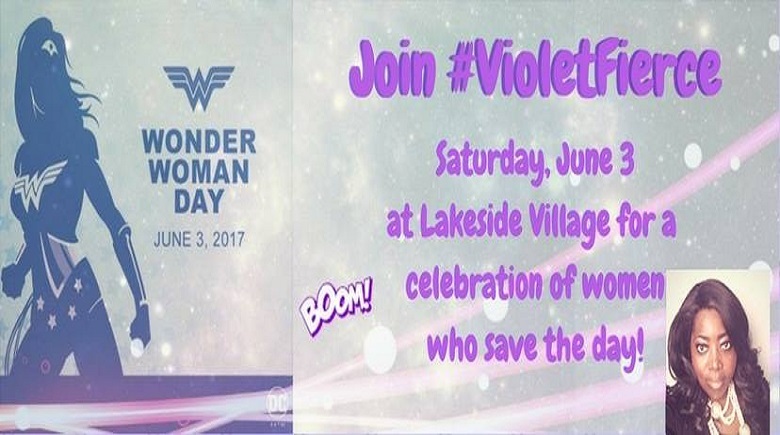 LAKELAND—Fifty women from all over Polk County will gather for Wonder Woman Day to be sociable and watch the movie at Lakeside Village. The festivities begin at 1 p.m. with a celebration lunch at Grillsmith's Saturday and conclude with a 3:45 p.m. IMAX 3D showing of the film at the Cobb Theater. 
At the Dutch lunch, the women will have a conversation about their own Wonder Woman experiences and network with one another. There will be door prizes, cake, fellowship and fun, said Merissa Green, PR expert and organizer of the event. One lucky fan will win a Funko Pop Wonder Woman in an invisible jet courtesy of the Arcade 80s in Winter Haven.
"During my 17-year career in Polk, I've had the wonderful opportunity to meet some phenomenal women," said Green, whose alter ego on social media is #violetfierce. I wanted to create an experience that would celebrate who they are and make seeing DC Comics' first female superhero on the silver screen an adventure. It will truly be an empowering day."
Green said the women's greatest superpower is how they give of their time and talent to the Polk community.  Green herself advocates for literacy, public education, civic engagement and other noteworthy causes. Green said this will also be a diverse gathering of women of race, age and various occupations too. 
The women, who include executive directors of organizations, an OB-GYN doctor, lawyer, chef, bank manager and entrepreneurs, will also wear red or Wonder Women gear to pose for pictures. Green is documenting the experience for social media and DC Entertainment. 
DC Entertainment heard about what Green was doing and is providing Amazonian goodies for the occasion. DC Entertainment is also sending Green comics to give away at the gathering and throughout Polk's community. Green said she will be donating some of the comics to Girls' Inc. of Lakeland and Winter Haven.
DC Entertainment works in concert with many key Warner Bros. divisions to unleash its stories and characters across all media, including but not limited to film, television, consumer products, home entertainment and interactive games. DC Entertainment is one of the largest English-language publisher of comics in the world.