For Haines City's New Police Chief, It's a Homecoming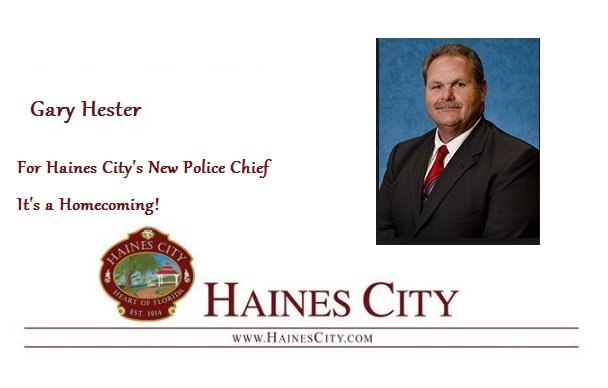 HAINES CITY – Gary Hester's appointment as Haines City's new police chief on March 8th marked a bit of a homecoming, since Hester was born and raised on Haines City's east side.
A 1978 graduate of Haines City High School, he's the past president of the Haines City Rotary Club, and his wife is retired from the city's school system.
"I know the town and know the community, my family still lives in Haines City," he said. "I have deep roots in the city."
He begins work as the city's top law enforcement officer May 15, and will draw a salary of $105,000.
Hester plans to settle in and get to know the department to learn its strengths and challenges are before setting any goals for improvements or changes, he says, but he already has some idea where he will focus his efforts.
"I've always been committed to crime prevention," he said. "I think it's our job to prevent crime as well as solve crimes. I'm committed to providing great community service and a great quality of life for our citizens."
He also says he will focus on data-driven, community-based policing.
"I'll be very engaged in the community and I'll expect the same thing from the officers," he said.
Hester brings more than 22 years of service at the executive leadership level to the job, and is known by many as a "transformational leader. "
He served as Chief of Staff of the Polk County Sheriff's Office until 2010 before serving four years as Winter Haven's police chief.  Most recently he's spent two-and-a-half years Polk County's Deputy County Manager, overseeing public safety.
Hester received his undergraduate degree in Criminology from Saint Leo University, and earned a Master's degree in Criminal Justice from the University of Alabama.
City Manager Richard Sloan says he's excited to work with Hester, with whom he worked at the Polk County Sheriff's Office, and praised what he calls Hester's "proven track record" of employee development, productivity, customer service, morale and organizational effectiveness.
"He is the consummate professional leader that we need to lead our police department to the next level." He said. "Gary and I worked together for 28 years and he will be a great addition to our executive team."