PCSO detectives arrest suspects for trafficking in heroin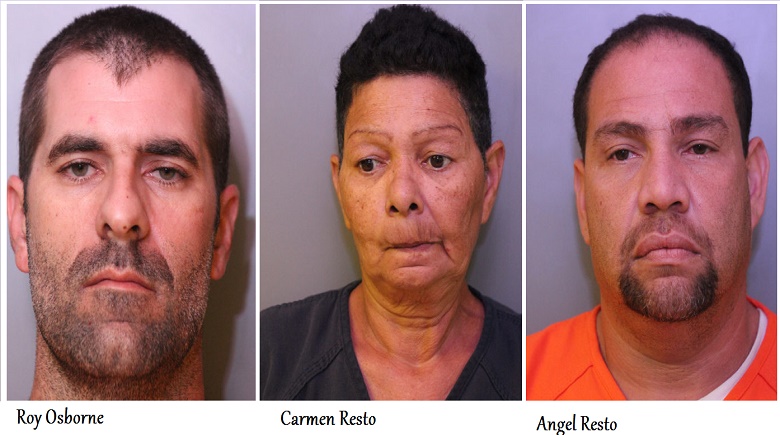 On Friday, March 10, 2017, detectives arrested 35-year-old Roy Osborne of Winter Haven for trafficking heroin (F-1), possession of a vehicle for the purpose of trafficking drugs (F-2), and possession of drug paraphernalia (M-1); 59-year-old Carmen Resto of Bartow, for trafficking heroin (F-1), trafficking cocaine (F-1), possession of alprazolam (F-3), possession of drug paraphernalia (M-1), possession of cannabis (M-1), possession of structure to traffic drugs (F-2); and 46-year-old Angel Resto of Eagle Lake for possession of heroin (F-1), possession of drug paraphernalia (M-1).
According to the affidavit, detectives conducted a traffic stop on Roy Osborne, and while conducting the traffic stop, observed Osborne holding five clear plastic baggies containing multiple green clear baggies of a brown powdery substance. The substance tested positive for heroin and it weighed approximately 12.6 grams. Osborne told detectives that he purchased the heroin that morning for $780.00. 
Detectives also executed a search warrant at Carmen Resto's residence, 5413 Kirk Road, Bartow
.
During the search detectives found two plastic bottles containing 15 baggies, with 23 smaller baggies inside, testing positive for heroin and weighed approximately 43.5 grams; a white bottle containing several clear baggies containing a white substance, which tested positive for cocaine, and weighed approximately 130.5 grams; and a small amount of marijuana and a bottle containing alprazolam (Xanax). Post-Miranda Resto told detectives that she sells drugs to help pay for her rent.
Prior to conducting the search at Carmen Resto's home, her brother Angel Resto arrived at the residence. Detective's stopped the vehicle in front of the residence and Angel Resto was found to be in possession of a baggie of heroin.
All were booked into the Polk County jail on the aforementioned charges. Osborne is being held in the Polk county jail on $30,500.00 bond, Carmen Resto is being held on $507.000.00, and has a Nebbia hold (meaning the court may inquire into the financial source of the bond), and Angel Resto has been released after posting a $1,500.00 bond.