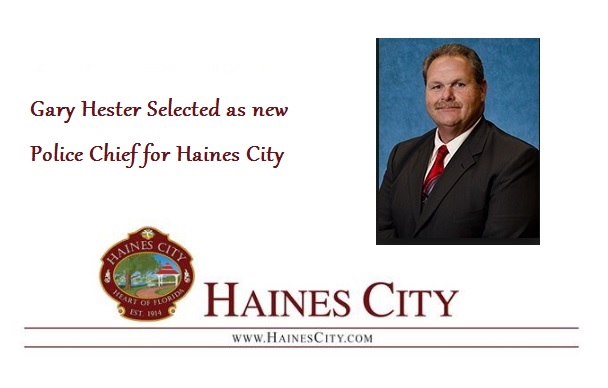 Haines City, FL – March 8, 2017 – Gary W. Hester, Deputy County Manager for Public Safety of Polk County has accepted the Police Chief position of his hometown and will start May 15, 2017 at a salary of $105,000. Gary has more than 22 years of service at the command or executive leadership level and is known as a transformational leader, dedicated to helping organizations and individuals succeed. His proven track record in employee development, productivity, customer service, morale and organizational effectiveness will be instrumental in helping the Haines City Police Department be the benchmark for law enforcement excellence in Polk County and the State of Florida.
Gary W. Hester received his undergraduate education at Saint Leo University, receiving a Bachelor of Arts degree in Criminology and furthered his education with a Master of Science degree in Criminal Justice from the University of Alabama. Gary is a graduate of the Southern Police Institute, Police Executive Research Forum's Senior Management Institute for Police and is a State of Florida Certified Public Manager.
Gary has served as the Chief of Staff for Polk County Sheriff's Office, Police Chief for the City of Winter Haven and is currently serving as Deputy Manager overseeing Public Safety for the Polk County Board
of County Commissioners.
City Manager Sloan stated: I am excited to have the opportunity to work the Gary again.  He is the consummate professional leader that we need to lead our Police Department to the next level. Gary and I have worked together for 28 years and he will be a great addition to our executive team."
About Haines City
Incorporated in 1914, Haines City is nestled in the "Heart of Florida" and is home to more than 22,000 year-round and seasonal residence. Haines City was ranked the number one location for "vacation home deals" and "golf nuts" by CNN Money, second in Florida for cost of living by onlyinyourstate.com, third in the nation for the "Most Affordable Snowbird Destinations" by tripping.com, and third out of the "5 Best Places to Picnic in Polk County" by the Ledger.  The City set a Guinness World Record for the most sparklers lit simultaneously and is home to the world-class IRONMAN 70.3 Florida, Thunder on the Ridge Fourth of July Celebration, Southern Dunes Golf and Country Club, and located just outside of Orlando's Major theme parks.  We found our heartbeat in the "Heart of Florida" … come find yours.