Sadly, the Bartow Police Department announced the passing of a beloved friend and former Police Officer, Michael Quinn. Officer Quinn, who passed away March 1st after a long and courageous battle with cancer, had recently retired from Bartow Police Department after serving for nearly 20 years. Officer Quinn had worked as a Patrol Officer, School Resource Officer and as a K-9 Handler. In 2015 he was honored with the Hometown Hero Award presented by Bartow High School for several years and countless hours of coaching and volunteering with Bartow Youth Football League. Officer Quinn, with his cheerful nature and positive attitude, influenced the lives of many young people on and off the football field. Officer Quinn will be missed by his family, and his many friends at the Bartow Police Department.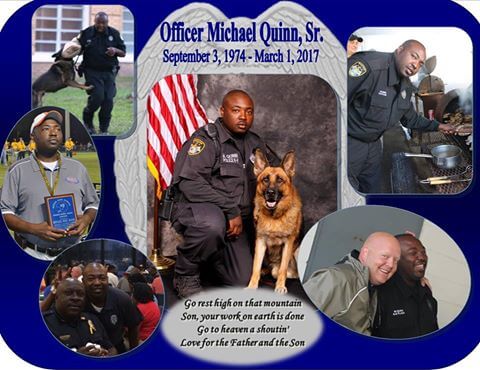 Funeral arrangements for Officer Michael Quinn are as follows:
Visitation will be Friday, March 10, 2017 from 5:00 P.M – 7:00 P.M at Vineyard Church of God located at 490 W. Vine Street in Bartow.
The Funeral is scheduled for Saturday, March 11, 2017 at 1:00 PM at Bartow First Assembly of God Church at 915 S. Broadway Ave. in Bartow. Interment directly following the funeral, at Wildwood Cemetery.
If you have any questions or concerns, please contact Funeral Liaison Officer Randy Tagliarini.