A 51 year-old woman attempting to park in front of the Fashion and Multi-services Center in Winter Haven hit the gas instead of the brakes causing the vehicle to land almost completely in the store causing approximately $10,000 damage.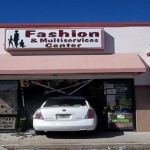 There were no injuries in the crash and the airbags did not deploy.
Today at 10:30 a.m., 51 year-old Erlande Lormeau if Winter Haven pulled into the parking lot at 901 6th St NW when in her attempt to park, hit the gas. The 2006 Nissan Altima plunged into the building narrowly missing the manager who was inside.

Lormeau was issued a citation for violation of driving restriction as she only possessed a Florida Learner's Permit and not having a licensed driver in the vehicle. (A passenger inside of the vehicle, 43 year-old Yolande Pierre-Lormeau does not have a valid driver's license.)