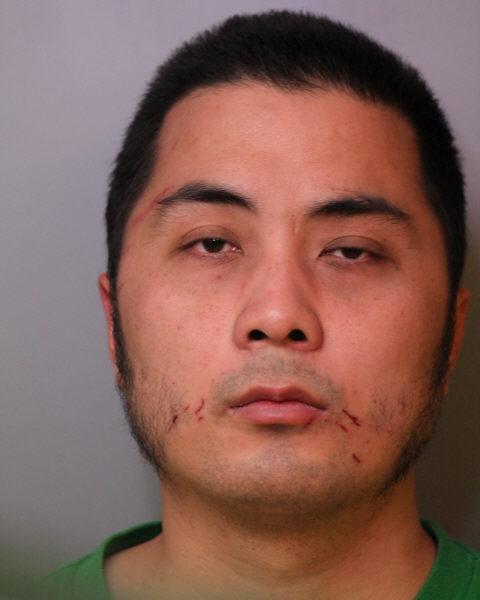 Winter Haven Police Department Press Release
The owners of the China Park restaurant in Winter Haven survived an attack with a meat cleaver after a temporary employee they offered a full-time job to attacked them.
On 1-10-17 at approximately 9:28 p.m., Zheng Shan: pronounced "Ch-uh-ng Sh-ah-n" (female DOB 7-18-72) and Jia Dong : pronounced just like spelled (male DOB 11-22-71) were in the kitchen area of the restaurant, China Park (7120 Cypress Gardens Blvd., Winter Haven) with a temporary employee, Zhong Huang: pronounced "Ch-ow-ng (like "own" with a ch in front) Who-Ong" (male DOB 4-17-88).
The owners had hired Huang as a temporary employee through an agency out of New York. He had been working for the couple for two days and Shan wanted to offer him a permanent position with the restaurant. When Shan requested his identification so she could complete the paperwork to begin the process, Huang got upset and began yelling at Shan. He refused to give the identification and that's when Dong stepped in and told Huang to leave the restaurant.
Huang continued to argue and was more outraged as he was told to leave and that the police would be called if he didn't leave immediately. When Dong turned to go to the front of the restaurant, Huang picked up a meat cleaver and began swinging at Dong striking him in the neck and yelling that he was going to kill both Dong and Shan.
Shan ran to help and Huang began swinging the cleaver at her striking her in the hand. She attempted to get the cleaver from him, but Huang pinned her head to a counter and they continued to struggle. Ultimately he let go of the cleaver and told the couple that if they call police, he would come back and kill them when he got out of jail. He then left through the front door of the restaurant. (Neither Dong nor Shan received serious injuries.)
Shan called 9-1-1 and when police arrived, they located Huang at the back door of the restaurant. He was taken into custody without incident. Shan and Dong were both treated at the scene by EMS personnel for cuts and scrapes.
Huang was booked into the Polk County Jail on charges of Attempted Murder 2nd Degree (F2) and Tampering in Felony Second Degree Proceeding.