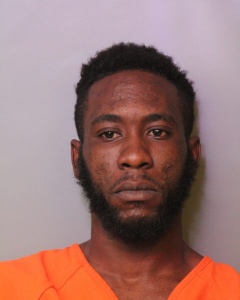 Fort Meade, Florida – At approximately 6pm on 12/06/2016 a victim drove to the Polk County Sheriff's Office substation in Fort Meade advising deputies that her ex-boyfriend had tried to kill her. According to the victim her ex-boyfriend opened fire on her vehicle while she was driving down Martin Luther King Jr. Blvd. in Fort Meade.
The incident started as an argument between the suspect, Desmond Williams 22 of Fort Meade, and his ex-girlfriend Harleigh Jones. It should be noted according to reports that Jones and Williams had been separated approximately 11 months. The suspect allegedly threatened the victim along with her new boyfriend. Advising the pair "but just know if I SEE YOU DOWN hell and highwaters to pay n hope stew strapped up". The suspect then allegedly sent a photo of a black handgun to the victim.
Later on that day a witness spotted the suspect as she was driving down the road and the suspect allegedly yelled at her and lifted his shirt showing a handgun. The witness contacted the victim advising what she saw. During the conversation the witness drove back toward where the suspect was located and they exchanged words. During this exchange the call was lost between the witness and the victim. The victim fearing for her friend's safety drove down MLK Jr. Blvd.  Allegedly while driving down MLK Jr. Blvd. the suspect allegedly stepped out into the road and the victim drove around the suspect. After driving around the suspect and headed away the suspect allegedly pulled a handgun and fired 5 rounds at the victims vehicle. Multiple rounds struck the vehicle. During the firing the victim leaned down in the seat and a round allegedly went through the rear window into the windshield. The round in the assessment of investigators would have struck the victim causing great bodily harm and/or likely death.
The suspect was located and arrested. Post Miranda the victim allegedly confirmed the handgun picture was sent by him, but he didn't shoot at the victim. He alleged the bullet holes were already in the victims vehicle. Deputies investigating the case were able to retrieve the fired bullets inside the vehicle.
Williams was arrested and charged with Attempted 1st Degree Murder, Shooting Into An Occupied Vehicle, Carry Concealed Weapon/Firearm, Discharge Firearm In Public, Improper Exhibit Firearm and Domestic Violence with Intent To Commit Felony. Williams was give a $73,500 bond. He does not appear to have been released as of this article.