Holiday Pumpkin Roll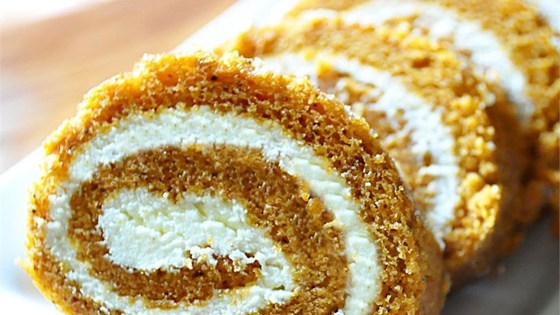 Print
Prep 30 m

Cook 10 m

Ready In 1 h 50 m
Preheat oven to 400 degrees F (200 degrees C). Butter a 12×17-inch jelly roll pan and line with parchment paper; butter the parchment paper. Generously dust a kitchen towel with confectioners' sugar.

Beat eggs, white sugar, and pumpkin together in a bowl until creamy.

Sift flour, baking soda, cinnamon, cloves, and nutmeg together in a separate bowl; gradually stir into egg mixture. Stir to combine. Spread batter evenly into the prepared pan.

Bake in the preheated oven for exactly 10 minutes.

Immediately turn cake onto the prepared kitchen towel. Starting at a long end, roll up pumpkin cake and towel. Let rolled cake rest for 10 minutes.

Beat cream cheese, butter, 16-ounce package confectioners' sugar, and vanilla extract together in a bowl until smooth; fold in pecans.

Unroll cake; spread with the filling. Roll up cake (without towel). Cut off any jagged ends. Cover and refrigerate until chilled. Cut cake in half if desired; sprinkle with confectioners' sugar before serving.