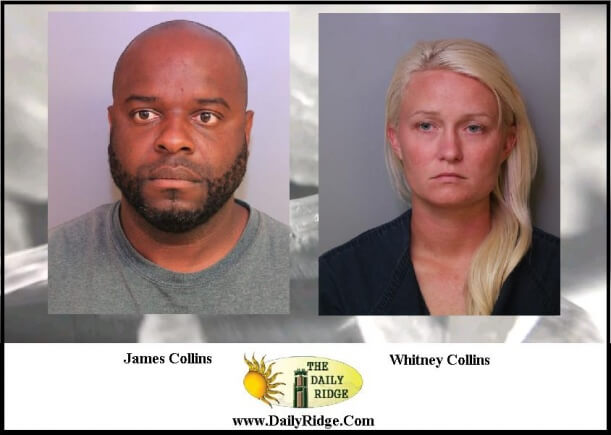 Mulberry, Florida – The Polk County Sheriff's Office has arrested James Collins and Whitney Collins charging them with trafficking methamphetamine.
On October 25, 2016 Polk County Sheriff's Deputies with the help of a confidential informant set up a drug buy with man, Collins,  suspected of dealing in methamphetamine. A short time after the deal was set up a vehicle matching the description of Collins vehicle arrived at a gas station on S.R. 60 & SW 5th Avenue in Mulberry. It soon pulled out and Collins allegedly called the confidential informant and advised he thought narcotics investigators were following him. Deputies stopped the vehicle and spoke to the subjects inside. James Collins & Whitney Collins were read their Miranda rights. Post Miranda James Collins advised deputies that he didn't have any drugs on him. Through the coarse of the investigation it was learned that Whitney Collins was allegedly in possession of 27.6 grams methamphetamine. The drugs were not found on initial search as Whitney Collins had the drugs hidden in her vagina. Under the supervision of female investigators Whitney Collins retrieved the methamphetamine from where she had hidden it. A search of the couples home on Ogden Drive in Mulberry allegedly revealed 29.4 grams of methamphetamine hidden behind an air handler and a locked safe containing a loaded 9 mm Glock handgun. Deputies also allegedly found drug paraphernalia, marijuana grinder and glass pipe with marijuana residue, in the home. Investigators also found $41,000 in cash in and under a dresser drawer.
According to reports post Miranda James Collins allegedly admitted to dealing in methamphetamine and selling the drugs for $250 a quarter ounce, $500 a half ounce and $1,000 for an ounce.
The couple was charged with a multitude of charges including Armed Trafficking of Methamphetamine & Conspiracy to Traffic In Methamphetamine. The couple was transported to Polk County Jail.