The PCSO Traffic Unit is investigating a traffic crash in Dundee this morning, involving a car versus two pedestrians – an adult and a child.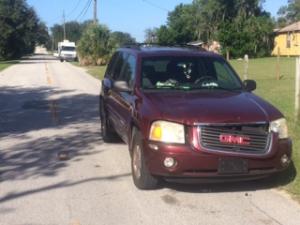 Both victims, a mother and her daughter, have been transported to area hospitals, and are in critical condition.
Preliminary information so far is as follows:
Around 7:00 a.m. this morning, a red 2002 GMC Envoy being driven by 30-year-old Stephen Raisor of Dundee, was heading eastbound traveling to his home located on Weiberg Rd, when it struck two of four pedestrians who were walking side-by-side westbound, heading to the bus stop located at 8th Street North and Weiberg Road.
The pedestrians are:
41-year-old Consuelo Cristanos (mom),
7-year-old Esmeralda Garcia (daughter),
13-year-old Violeta Garcia (daughter),
Giovanni Ramirez-Diaz (small child of unknown age, being babysat by Consuelo).
Consuelo and her daughters also reside on Weiberg Road in Dundee. Consuelo and the children were walking Violeta to her bus stop for Dundee Ridge Middle School.
Consuelo and Esmeralda were in the roadway, while Violeta and Giovanni were in the grass alongside the road.
The driver said he was clearing condensation from his windshield and did not see Consuelo and Esmeralda until just before impact. After striking them, he and his wife got out of their car, called 9-1-1, and rendered aid.
Consuelo was airlifted to Osceola Regional Medical Center, and is in critical condition.
Esmeralda was airlifted to Lakeland Regional Health Medical Center, and is in critical condition.
The other pedestrians were not injured.
The roadway in the area was dark at the time of the crash. Speed and impairment do not appear to be factors. The investigation is ongoing.