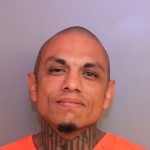 Dundee, Florida – On September 26, 2016 a Polk County Sheriff's Deputy made a traffic stop on Hwy 27 & Lincoln Avenue in Dundee at 1:20am. Prior to the vehicle coming to a stop deputies say that two Hispanic males exited the moving vehicle and fled the scene. The deputy had to stop the motion of the vehicle and the suspects got away. Air support from the Polk County Sheriff's Department helicopter and K-9 deputies arrived on scene shortly after.
In the car deputies found a Ruger .22 caliber rifle and two 20 round banana clips of ammo.
Deputy Zeigler & his K-9 partner Recon were able to pick up a track for the suspects. Along the track deputies found a wallet which contained 6.7 grams of methamphetamine and $342 in cash. Additionally a mesh pouch was found containing a loaded HiPoint .45 caliber handgun, a loaded Smith & Wesson .40 caliber handgun, $2,680 in cash, a small key, and a narcotic ledger was found along the track path.
During the inventory of the vehicle, deputies located a backpack containing court documents in the name of Richard Romero and a small lock box.  Deputies determined that there was warrant out for the arrest of Romero for failing to register as a Career Offender.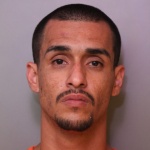 Deputies were able to determine the suspect's fled to a mobile home on Garden Gate Rd. Deputies responded to the home and made contact with the homeowner, Seth Chaney. Chaney is currently on supervised probation with a Submit to Search Clause as a condition of his probation. Chaney allowed deputies to search his house and they located  Richard Romero and Jose Rebollar hiding in the residence. The initial deputy was able to identify the two men as being those that abandoned the vehicle and ran from the scene. Romero was identified specifically as the driver.
Deputies also learned that Romero's drivers license was suspended for failure to pay a traffic citation.  At the time of Romero's arrest he allegedly had a necklace with a lock box key on it. The key successfully opened the aforementioned lock box, which contained a baggie with a small amount of marijuana, a small baggie containing Methamphetamine residue, and numerous empty small baggies similar to those containing the marijuana and meth residue.
A closer look at the mess bag, that was found, also revealed a lock box key that fit the lock box in the car.
It was determined that the .22 caliber rifle was stolen in a residential burglary on 6/15/2016.
Romero & Rebollar were taken into custody and transported to Polk County Jail.