Tire Removal Project in Poinciana a Success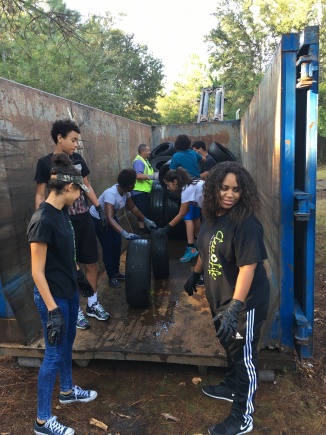 Polk County, FL –Keep Polk County Beautiful in partnership with Polk County Board of County Commissioners hosted a Tire Collection Event in Poinciana aimed at reducing the Zika Virus on Saturday, September 24th.  The event consisted of a public tire collection event as well as volunteers cleaning up tires, junk and debris from vacant properties and public rights of way.  Students from New Dimensions High School's Rotary International Interact Club and other private and county agencies partnered to make this event a success.  87 volunteers and staff worked hard to collect 12,760 lbs. of dumped trash and 947 tires in just 4 hours.  Thanks to a generous donation by Republic Services, all trash/tires were collected in roll-offs and hauled at no charge.  This program is made possible by the support of Polk County's Government, Republic Services, and local community and volunteer support.
This program is slated for the North Lakeland Area in late October.  For more information on this or other Keep Polk County Beautiful, Inc. Community Events, contact (863)875-8911 or visit www.keeppolkcountybeautiful.org .