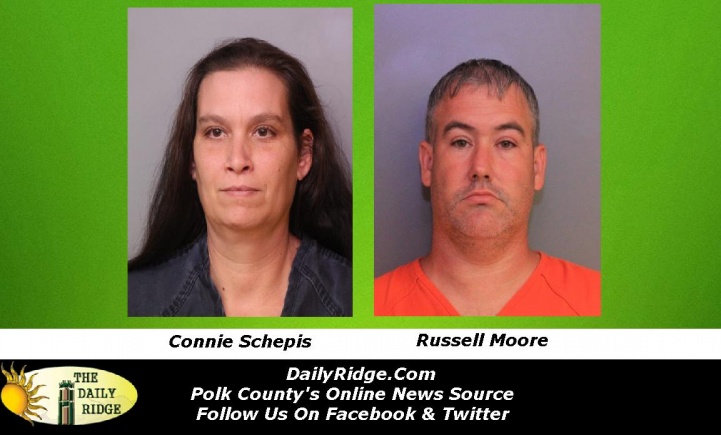 Lake Wales, Florida – On 8/24/2016 Lake Wales Police were contacted regarding a case of child pornography involving a juvenile. Two suspects were eventually arrested and two video's and photo's were confiscated.
The juvenile (victim) reported that she had known Connie Witt Schepis 42 yr old suspect who lives on Weaver Ave. in Lake Wales,  and she would stay with her for a few weeks at a time. The victim also had kept her belongings including her animals with the suspect. The direct relationship between the victim and the suspect is not being released due to the nature of the charges. The victim stated that sometime in July 2016 during the daytime hours the suspects boyfriend, Russell Moore 37 of Winter Haven, locked her out of the room that contained her belongings. Schepis allegedly informed the victim that Moore wanted 5 nude photo's and a video of her masturbating before they would allow her back in the room. At this time the victim told Schepis no. According to reports the victim advised that the door was eventually unlocked. She was advised if she wanted certain things back including her dogs she had to do the video. The victim advised Schepis she felt uncomfortable and did not want to do the video. According to the victim one time Schepis provided alcoholic beverages including wine coolers and shot's to her. The victim then was instructed to undress and go to Schepis' bedroom. At this time Schepis allegedly gave the victim several instructions on how she wanted her to masturbate in front of the camera, which was recorded on Schepis' phone.  According to the victim a second video was made where she was only wearing a bra.
According to reports Schepis took these video's and photo's and sent them to Moore. She also allegedly showed them to Randy Caswell, William Little and another person who's name and information has been redacted (possibly a minor). According reports the victim advised police that Caswell & White told her they saw the video.
On 8/24/2016 Schepis drove to the Lake Wales Police Department for an interview. After being advised that she would be recorded and read her Miranda Rights officers began the interview. According to Schepis the victim came to her regarding the video in exchange for keeping something (redacted information). Schepis allegedly advised that she took the video with her cell phone. Schepis denied she told the victim what to do on the video. Schepis allegedly advised that she knew the victim would be nude. Schepis allegedly admitted to knowing the victim's age at the time of recording the video. Schepis allegedly advised officers that she sent the video to her boyfriend Russell Moore's phone and she showed the video to two other people. One day while sitting on her couch Schepis alleges she showed the video to Randy Caswell & William Little.
In a separate interview Caswell allegedly acknowledge that he was shown multiple pictures and the video of the victim a month after it happened. Caswell allegedly advised that one photo showed Schepis' mouth on the victim's breast. Caswell asked Schepis why she had the video and pictures and she advised it was for Moore and she had sent them to him. Caswell also advised officers that he had spoken with the victim and she advised that she did not want to do the video and she was drunk when it happened.
A separate interview was conducted with William Little who advised he had no knowledge of the video nor had he ever seen it.
According to the Lake Wales Police Department reports Schepis cell phone and Moore's phone were obtained through a warrant on August 26, 2016. A forensic examination was completed. According to reports on 7/7/2016 a nude photo of the victim's breast was sent to Russell Moore via MMS messaging. Also a conversation is documented where Moore allegedly asks Schepis find out of the victim would do video and pictures for money. Schepis later replies that the victim will not do video's.  Moore allegedly asks how many photo's will the victim do for $20.00. According to reports on 7/8/2016 Schepis sends another photo to Moore of the victim pulling up her shirt and showing her bra, but no nudity. Moore then allegedly text's back that the video's and pictures will help their relationship and insists that Schepis ask the victim to do more. According to reports Moore then tells Schepis that a bra picture is not "dirty" and indicates he wants more. During the conversation Schepis tells Moore the victims age (the age is redacted for the safety and anonymity of the victim). On 7/13/2016 the forensic investigation reveals that Moore messages Schepis asking for 10 pictures total. Moore then allegedly states he wants 8 and that is his final offer. Shortly afterwards Schepis sends 8 pictures to Moore including one that has Schepis mouth on the victims breast. The picture contained Schepis face and the victims face confirming that the picture was of the victim and Schepis. The rest are of several nude positions of the victim. On 7/14/2016 two video's were sent to Moore from Schepis. The video's depicted the victim in the manner discussed above.
On September 19, 2016 Connie Schepis was arrested and charged with 2 counts of Direct/Promote Sexual Performance by Child and 11 counts of Possession of Child Pornography. She had a first appearance and bail has been set at $285,000 and if she does make bail she must be on house arrest. Russell Moore was arrested on September 17, 2016 and charged with 2 counts of Direct/Promote Sexual Performance by Child and 11 counts of Possession of Child Pornography. His bail has been set at 295,000 and should he make bail he must be on house arrest.
No additional charges have been filed in this case at this time.