Recognize either of these guys?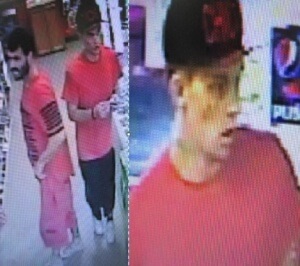 Around 5:12 p.m. on Wed, Aug 31, 2016, the suspects seen here stole approximately $30.00 worth of merchandise from the EZ Food Mart located at 4009 Knights Station Road in Lakeland. The suspects then fled in a dark red SUV towards Harrelson Road.
Both suspects were wearing red and black clothing. One of the suspects was wearing a black and red baseball cap which reads "CHICAGO," and has a teardrop tattoo under his right eye.
Anyone with information about this investigation is urged to contact Detective J. Leblanc at 863-577-1600, or 863-298-6200.
ANYONE WITH INFORMATION WHO WANTS TO REMAIN ANONYMOUS AND BE ELIGIBLE FOR A CASH REWARD IS ASKED TO CALL 1-800-226-TIPS or LOG ONTO www.heartlandcrimestoppers.com. ANONYMITY IS GUARANTEED!