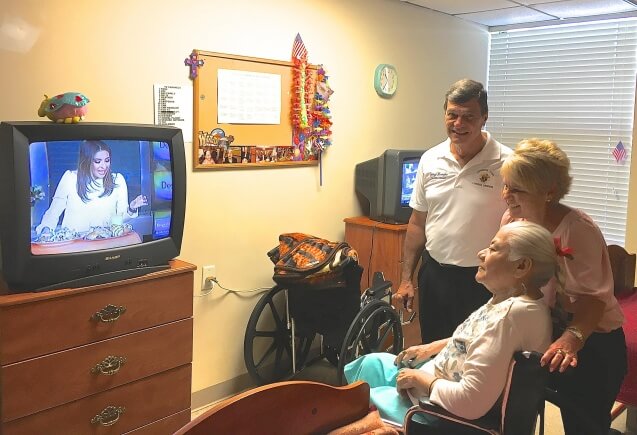 Haines City, Florida – Improving the lives of people by performing acts of charity is what the Knights of Columbus Council is all about.
Knights of Columbus Council 7091 of Cypress Gardens demonstrated its commitment to charity in a big way by recently donating a dozen televisions to the Haines City Health Center in Haines City. This random act of charity has reaped huge dividends by bringing joy to seniors who reside in the 120-bed skilled nursing facility.
One of these residents is "Cornelia," who derives plenty of enjoyment from one of the donated TVs which makes it possible for her to watch her favorite programs each and every day in the privacy of her own room.
"Cornelia is one of our Spanish-speaking residents who appreciates her TV very much because it allows her to enjoy Spanish language shows and also keep up with the news," said Debby Rayfield, activities director at the health care facility.
"We thank the Knights of Columbus for donating these TVs. They are very
popular with our residents because they allow them to rest and relax while enjoying their favorite programs," Rayfield added. Echoing this view was Tom Glass, administrator of the center which provides long term care for its residents and rehabilitation services for people who reside in Haines City and nearby communities.
The televisions donated to the Haines City Health Center were originally used as monitors for a charity Bingo program run by Knights of Columbus Council 7091 for many years in the former Red Lobster restaurant building in downtown Winter Haven. The council decided to donate the TVs to a worthy charity rather than sell them when they had to be removed from the former Bingo hall due to the recent sale of the building.
The council chose the Haines City Health Care Center as the recipient based on a recommendation by knight Tom Habina who was lavish in his praise of the care received at the facility by a close relative. Habina and fellow knights Billy Bob Morris, Sal Porta and George Marhefka personally delivered the televisions to the center.
"We are delighted with the outcome of this charitable gesture. It is very
rewarding to us as a council, especially when you see the joy it is bringing to so many senior citizens," said Marhefka during a recent visit to the center in his role as the
council's Grand Knight.
The TV charitable initiative is the latest example of K of C Council 7091's
outreach to the Polk County community. The council provided financial support for a program at St. Matthew Church that equipped needy Polk County students with essential school supplies and donated funds raised through its annual Tootsie Roll Drive to Polk County Special Olympics and the Achievement Academy.