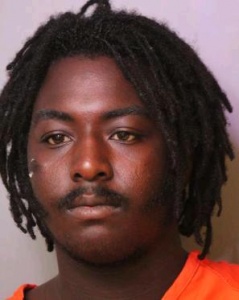 Winter Haven, Florida – On Thursday, August 25, 2016, PCSO undercover Organized Crime detectives arrested 20-year-old Stanley Jarvis Gaskin of 3724 Avenue S NW in Winter Haven, and charged him with one count Possession of Alprazolam (Xanax) Without a Prescription, one count Possession of Meth, and one count Possession of Drug Paraphernalia, after the suspect sent messages to an undercover detective on Facebook and arranged to meet with the detective to sell him Xanax.
The following is an excerpt from the affidaivt:
The investigation began on 8/22/16, when Gaskin contacted me on a undercover fictitious account on Facebook. Gaskin messaged me advising that he had "bars." Gaskin and I came to an agreement which resulted in Gaskin offering to sell the "bars" for $2 apiece. Gaskin and I agreed to meet at the Circle K in Winter Haven, Florida, to conduct the transaction. Gaskin and I communicated via Facebook messages, phone calls, and text messages throughout the investigation.
At approximately 2:26 hours, I arrived to the Circle K parking lot and contacted Gaskin via phone. I advised Gaskin the vehicle that I was driving at which time he began walking to my undercover vehicle. Detectives made contact with Gaskin as he approached my undercover vehicle. Detectives located approximately 11 white pills with the engraving G3722. The pills were identified to be Alprazolam 2mg. I located a clear plastic bag that contained a crystal like substance which was tested with field test kit number 15 which indicated a positive reaction for methamphetamine. The total weight of the methamphetamine was 1.6 grams.
During a search of the suspect's vehicle, detectives located the following: a mini cross bow, an Airsoft BB handgun, an antique musket-style handgun, along with multiple wristwatches, a security badge, and a police campaign hat badge. Gaskin told detectives that does not work and stated the police badge belonged to his girlfriend's grandfather.
Gaskin has 3 prior arrests in Polk County, for Aggravated Assault With a Deadly Weapon, Felony Battery, Domestic Violence by Strangulation, and Drug Possession. His most recent arrest was in May 2016 for Domestic Violence.