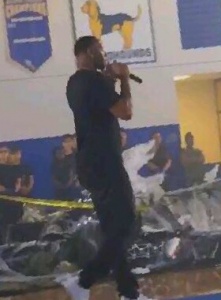 Auburndale, Florida  – Basketball icon and philanthropist, Tracy McGrady, announces plans to host the Tracy McGrady Community Empowerment Day in his hometown. Presented in conjunction with the City of Auburndale Parks & Recreation Department, this event strives to provide essential tools and mentoring to local middle and high school students. Slated for Saturday, August 27 from 10:00am-4:00pm, attendees will enjoy a full day of inspiration, personal development and educational activities. The event will be held at the Auburndale Community Center located at 405 Bennett Street in Auburndale, FL. Featuring workshops on leadership, life skills and goal-setting, the Tracy McGrady Community Empowerment Day includes a solid roster of motivational speakers and experts. Guest speakers include Auburndale Mayor, Tom Pospichal; Former Pro Basketball Player & Business Leader, George Tinsley; youth advocate, Gregory Williams; Project P.U.S.H. Founder, CleRenda McGrady; and more. Tracy will also share his personal story and offer his insight on how to transform your future and achieve success.
"I believe that if you focus, work hard and follow your dreams, you can achieve anything you set your mind to. I am excited to come home and share my insight with the students of Auburndale and neighboring communities. It's important for our youth to see what's possible and be empowered to pursue their passions and create a better future for themselves and their families," says McGrady. In addition to workshops and panel discussions, the event offers a power-packed day of fun and entertainment. Attendees will enjoy free food and drinks as well as a variety of games and activities. The event also features a mini-expo with exhibits from schools, community organizations and businesses.
Admission is complimentary. Free Tickets are available online at: https://tracymcgradycommunityday.eventbrite.com McGrady's hoops tale began at Auburndale High School. He averaged 23.1 pts and 12.2 rebounds a game with the Bloodhounds. He entered the NBA Draft in 1997 as the 9th overall pick. McGrady went on to become one of the most recognizable and accomplished players in the league. McGrady played for the Toronto Raptors, Orlando Magic, Houston Rockets, New York Knicks, Detroit Pistons, Atlanta Hawks, and San Antonio Spurs. Throughout his career, helping others and giving back to the communities that supported him has always been important. Hosting a community event is an extension of his mission to mentor and empower the next generation. Partnering with the City of Auburndale and hosting the event at the community center is a reflection of his commitment to his hometown. "Parks and Recreation is always excited to provide venues for community events such as what Tracy McGrady is hosting at the Auburndale Community Center. Events of this nature have such a great opportunity to impact our local families. The event will teach quality lessons to help encourage and motivate families to become stronger and well equipped for struggles that may come their way," says Parks & Recreation Director, Cody McGhee. Sponsored by The Tracy & CleRenda McGrady Foundation, the event is open to the public. Middle and high students as well as their families are encouraged to register and attend. For more information about the Tracy McGrady Community Empowerment Day or to request an interview, contact Danielle Pollard at [email protected] or call 404-372-9698. For information and directions to Auburndale Community Center, contact Eric Robinson at (863) 965-6362. About Tracy McGrady Tracy McGrady, commonly known as "T-Mac," is a 7-time NBA All Star, 7X All NBA selection, and NBA scoring champion. He played 16 years in the NBA with the Toronto Raptors, Orlando Magic, Houston Rockets, New York Knicks, Detroit Pistons, Atlanta Hawks, and San Antonio Spurs. Today, McGrady oversees various business endeavors and enjoys media broadcasting. He currently serves as a NBA Analyst on ESPN. www.tracymcgrady.com About City of Auburndale Incorporated in 1911, The City of Auburndale has 14,009 residents and is 25.3 square miles. The city prides itself as being the premiere place to live, work, play and shop. Learn more at auburndalefl.com. About Tracy & CleRenda McGrady Foundation The Tracy and CleRenda McGrady Foundation is a 501(c)(3) non-profit organization dedicated to enhancing the lives of children and their learning process. The Foundation supports various programs and has contributed thousands of dollars to numerous youth programs and charities. www.tracymcgradyfoundation.com.