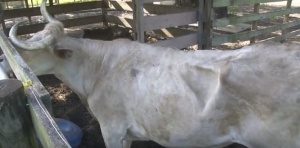 Polk City, Florida – On Tuesday, August 9, 2016, PCSO Agricultural Crimes detective obtained arrest warrants for a husband and wife, 65-year-old Darlynn Czerner and 61-year-old Clinton "Butch" Martin, owners of the Darlynn's Darlins, Inc., animal sanctuary (9830 Evans Road, Polk City), charging both of them with three (3) counts of Felony Animal Cruelty (F-3), and 138 counts of Animal Neglect (M-1).
According to their website (darlynnsdarlins.webs.com) "Darlynn's Darlins Inc., is a not for profit, No Kill, Animal Rescue, Sanctuary, Advocacy and Education organization. The Ranch provides a safe, loving, lifetime home to more than 200 exotic, farm, and domestic animals. We facilitate the adoption of spayed and neutered animals to appropriate and fully screened families. Many animals, due to age, physical issues, or type will remain at Darlynn's Darlins Ranch for life. We offer help and solutions to animal behavior issues hoping to help animals remain in their homes."
Of the approximately 200 animals at the sanctuary, the following animals suffered from cruelty and neglect:
135 hogs
Four dogs
One steer
Czerner and Martin were both taken into custody on August 9, 2016, and booked into the Polk County Jail.
According to their affidavits, on May 31, 2016, two representatives from PETA (People for the Ethical Treatment of Animals), began working as volunteers four hours per day, four days per week at the shelter, after receiving information that there were neglect issues at the facility. While there, the PETA members observed and video-recorded severe neglect of animals housed at the facility.
On August 2, 2016, PETA members contacted PCSO, told them of their findings, and gave detectives copies of their video recordings. The witnesses and the videos describe hogs on the property suffering from tumors, hair loss, overgrown hooves, open sores, and ambulatory issues. Additionally, there were dogs, cats, and a steer suffering from neglect.
Click here to view the PETA-produced video
"We consider this 'bogus' rescue to instead be a hoarding facility that left sick and injured animals to suffer without even basic veterinary care. Animals were found with open wounds, they starved in plain sight, and many went without water to drink in this summer heat. PETA thanks the Polk County Sheriff's Office, which swiftly responded to PETA's evidence of a crime in progress and rescued these long-neglected animals from their living hell." – Daphna Nachminovitch, Senior Vice President of Cruelty Investigations for PETA
On Thursday, August 4, 2016, PCSO Detectives and Animal Control Officers arrived at the facility in Polk City, and served a search warrant. They seized the aforementioned neglected animals, and additional animals (2 hogs, 43 chickens, 3 dogs, 7 cats, 2 ducks, a rabbit, and a horse), and brought all except the horse to PCSO Animal Control to be examined by Animal Control Veterinarian. The horse was taken to Hope Equine Rescue.
A total of 197 animals were removed from the scene.
The following are excerpts from the affidavit:
There were 23 hogs that were found to be a body score of a 1-1.5, fifteen were found to be a body score of 2-2.5, and 26 were found to be a body score of 3-3.5 [the body scores indicate animals were from very thin/skeletal frame to underweight]
Three hogs were found to have overgrown hooves that were causing the hogs to have issues walking.
One hog was found to have a broken leg that had healed in an unnatural position.
25 hogs were found to have severe skin conditions to include hair loose and severe sunburn.
11 hogs were found to have tusks that were growing into the side of the hogs' faces or causing them to have difficulty eating.
Two of the hogs found in the house were very obese, barely able to walk, and were found to be blind.
Located inside the residence were 8 hogs, 7 cats, 1 dog, and 1 rabbit. The hogs located inside the house did not have access to water or feed being confined within the walls of the residence.
Four dogs that were located without food or water were confined inside kennels where they could not leave to obtain food or water.
Two of the hogs found in the house were very obese, barely able to walk, and were found to be blind.
Two hogs were located in the front yard of the residence. One hog was found to be over 50% non-ambulatory and had a severe infection to its back. Dr. DeGroat who responded to the scene recommended the hog be euthanized due to its severe condition. The hog was transported to the Sheriff's Office Animal Control section and euthanized by Dr. DeGroat.
A small pot-bellied pig was found to be in distress and unable to walk. Dr. DeGroat examined the hog and determined it needed to be euthanized. The hog was euthanized at the Sheriff's Office Animal Control Section.
Two of the cats were found to have an upper respiratory infection upon examination
Six barrels of vegetable scraps were found in the bed of a black Nissan truck parked beside the residence. The barrels were full and were gathering flies. Located in a small barn near the center of the property were 20 unopened bags of hog feed.
In a pen area between the hogs was a Charolais / Long Horn cross steer. The steer did not have any hay, feed, or grass in the pen to eat.
During the investigation it was determined a large hog named "Buddy" laid on the ground for 14 days in respiratory distress. The hog was non-ambulatory and did not drink or eat for most of the time period. Witnesses observed the hog in that condition, photographed and videotaped the incident. The hog along with the hog located in the front yard suffered a cruel death that could have been avoided by the suspects. Witnesses observed the hog first on 06/01/2016, observed it for 14 days, and then observed it died on 06/14/2016. Witnesses assisted in burying the hog on 06/14/2016.
Through witness statements, evidence at the scene, and post-Miranda statements from the suspects, it was determined that three counts of felony animal cruelty were committed for the three hogs that died (two were euthanized, and one died in June). It was determined that 138 counts of animal neglect were committed on 133 hogs, 4 dogs, and 1 steer, for failure to feed, water, and provide proper medical care.
Click here to see an excerpt video from the PCSO search warrant
PETA has graciously donated feed for the animals. A civil hearing at a later date will determine the custody and disposition of all the animals seized.