SUSPECT:             Jhonatan Montenegro – Arrested
ADDRESS:            2240 Lake Daisy Rd Winter Haven, FL 33884
RACE/SEX            White Male        AGE:      18           DOB:      08/25/1997
INJURIES:            None
CHARGES:           Armed Burglary of Unoccupied Conveyance, Grand Theft Firearm, Carry Concealed                                       Firearm, Petit Theft
WEAPONS:         Springfield 1911 9mm hand gun S/N A32668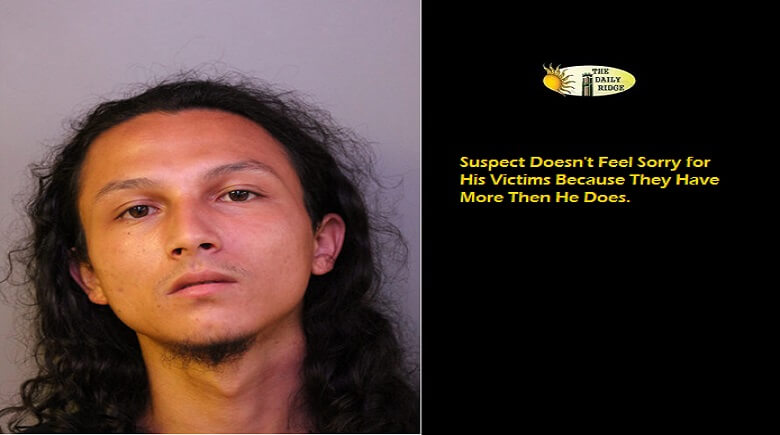 On July 14, 2016 reports were made of a suspicious person walking in the area of Lake Ned were reported.   D/S Turley responded to the area and located the suspect who fit the description of the reported person.  D/S Turley conducted a consensual search of the subject and located a firearm. The suspect advised post Miranda Waiver that the firearm was stolen. Detective Mike Richards responded to the scene and assumed the investigation. Montenegro directed deputies to the residence that he burglarized a conveyance and recovered the firearm. Contact was made with the victim.  The victim did not know that he was the victim of a burglary but did confirm that the firearm was missing and gave a description of it and two boxes of ammo that were missing.
A post Miranda waived recorded interview was conducted with Montenegro and he advised that he stole the firearm from the vehicle and intended it to be used as a self-defense measure. Montenegro advised that the ammo for the gun was at his residence in his dresser. Consent to recover the ammo from his residence was obtained, and it was found without incident. Montenegro advised that he does not feel sorry for the victims as they have things that he does not.
Montenegro was charged with the listed offenses and transported to the Polk County Jail without incident. It should be noted that Montenegro has arrests as an adult and juvenile of Petit Retail Theft and Resisting a Merchant.
It should be noted that WHPD case 16-4462 regarding a burglary of a conveyance was solved and a suspect arrested with partial information obtained from Montenegro.