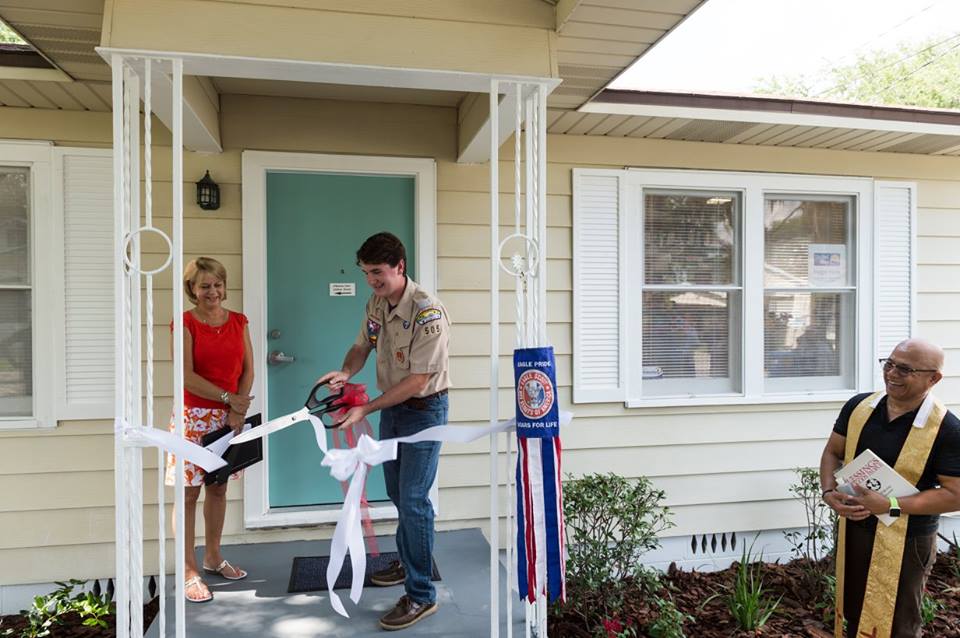 Winter Haven, Florida – On June 30, 2016 a ribbon cutting ceremony was held at the Catholic Charities Winter Haven Food Pantry on 532 Ave. M. NW. in Winter Haven.  Future Eagle Scout, Robert McLaughlin lead the service project to renovate the food pantry. McLaughlin and other volunteers spent 3 weeks renovating doing renovations.
McLaughlin is part of Boy Scout Troop 505 in Winter Haven. He was assisted with about 20 other scouts during the project. If you would like to see some other amazing things these scouts have accomplished here is the link to their website https://www.troopwebhost.org/Troop505WinterHaven/Index.htm
The Catholic Charities food bank at St. Joseph, Winter Haven is behind the Chapel and the Family Life Center on the eastbound lane of Ave. M North West. Hours of Operation are 9:00 am to 11:00 am Monday through Thursday.
Catholic Charities of Central Florida began in Orlando in 1962 and today serves more than 10 counties in the state. Locations throughout Florida collaborate on local as well as statewide levels to provide a more capable and connected agency to meet the needs of families and individuals. Polk County, of which St. Joseph is a part, is one of the largest counties in Florida. Due to its central state location between Tampa and Orlando and proximity to Interstate 4 and Highway 27, it has seen an increase in permanent and transient populations in recent years.