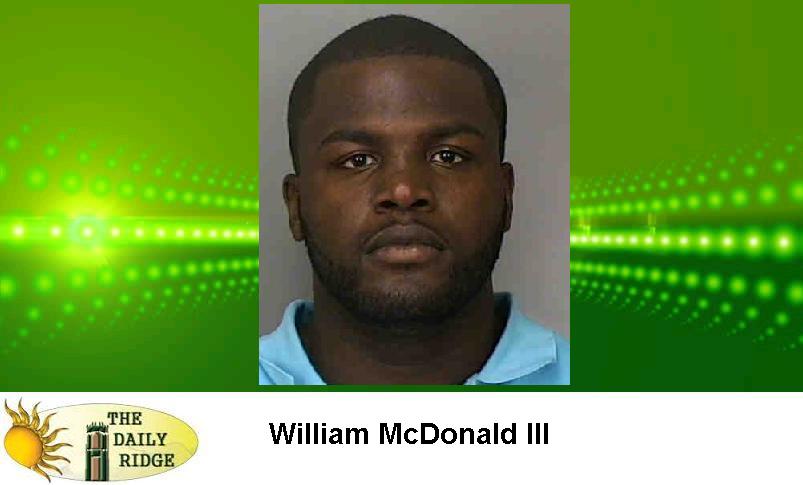 Press Release From PCSO:
Polk County Sheriff's Office Detectives Seeking Former County Probation Officer 32-year-old William McDonald III for Conspiracy to Traffic in Methamphetamine and Other Charges
32-year-old William McDonald III of Lakeland is wanted for conspiracy to traffic Methamphetamine and other charges after he fled the scene of 5710 4th Street, SE in Highlands City during an investigation (and subsequent arrest) of 29-year-old Dustin Moyer of the same address. During a methamphetamine trafficking investigation of Moyer at the Highland City address, detectives observed a black Ford F250 (FL tag #700-8UA) work style truck pull up in the yard at the residence. Detectives pulled in behind the tuck with unmarked Sheriff's Office vehicles with emergency lights activated and blocked the rear of the truck. Two people were immediately secured, Moyer, who was outside, and the truck's passenger, Cleon Ellison (see information below). However the driver of the black truck, later identified as William McDonald III, accelerated at a high rate of speed driving through heavy vegetation and through a six foot high fence, drove towards two PCSO undercover vehicles, then accelerated at a high rate of speed towards U.S. Highway 98 South and fled the area. Deputies did not pursue the truck.
Several minutes later, the PCSO Communications Center advised a vehicle collision involving a black dually style pickup truck occurred at the intersection of SR 540A and Yarborough Lane. Deputies learned that a vehicle was struck (side swiped) on the passenger side by a black dually work style pickup truck, the same one that fled in Highlands City. There were no injuries or major damage as a result of the crash.
Detectives traced the black F250 to William McDonald III of Lakeland. Further investigation into William McDonald III revealed that he is a former Polk County Probation Officer, and was arrested in 2011 for scheming to defraud, grand theft, uttering a forgery and fourteen counts of official misconduct. He was sentenced to one year in county jail and is currently on probation until 2023.
An arrest warrant for McDonald has been issued for conspiracy to traffic methamphetamine over 200 grams, aggravated assault on a law enforcement officer, reckless driving with property damage, resisting an officer with violence and violation of probation. Detectives are actively seeking his whereabouts.
The original investigation regarding Dustin Moyer revealed that he was actively buying and selling large quantities of methamphetamine. Moyer has been arrested and charged with Trafficking in Methamphetamines Over 28 Grams (2 Counts), Conspiracy to Traffic Methamphetamine Over 200 Grams, Resisting With Violence, Possession of Cannabis With Intent to Sell Within 1000 Feet of a Church, and Possession of Drug Paraphernalia. Also arrested was 26 year old Cleon Ellison of Pahoke, Florida. Mr. Ellison was found to have multiple warrants including carrying a concealed firearm, possession of cannabis and no valid driver's license out of Palm Beach County, Florida.
Anyone with information about the whereabouts of William McDonald III, and who wants to remain anonymous and be eligible for a cash reward is asked to call 1-800-226-TIPS or LOG ONTO www.heartlandcrimestoppers.com. ANONYMITY IS GUARANTEED! iPhone and Droid users can download a free tip submit app to anonymously report crime. To install these free apps, please visit www.tipsoft.com