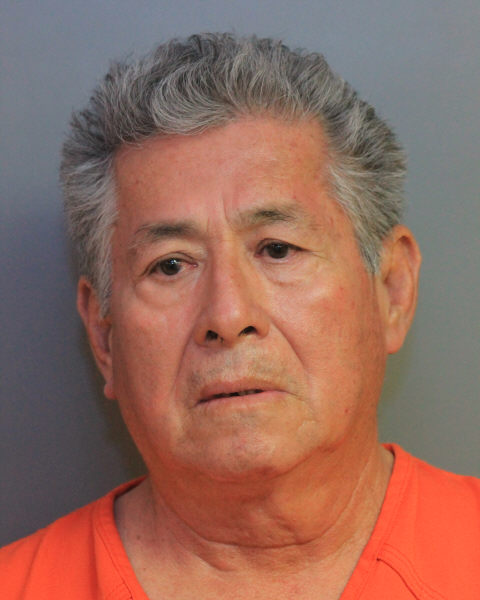 Haines City, Florida – On Thursday, April 14, 2016, Polk County Sheriff's Special Victims Unit detectives arrested 72-year-old Carlos Ojeda of Haines City for eight counts Capital Sexual Battery (F-C), for sexual abuse he committed on juveniles who were riding the school bus he drove.
According to the affidavit, on April 13th, a student at Horizons Elementary School in Davenport told his school counselor that he saw Ojeda place his hands down two different female students' pants on several different occasions on the school bus. Both of the victims were under the age of 12 years old. All of the children on the bus are special needs students.
"There are no words to describe the depravity displayed by this suspect. He drives a school bus, where he has access to these precious children. He lures them with candy, and physically assaults them in such a way that nobody will see it, or report it. Together with the Polk County School Board we are committed to keeping children safe. Thanks to their quick actions in reporting this, we were able to prevent this monster from hurting anyone else."Sheriff Grady Judd
A review of the school bus video surveillance system shows Ojeda on April 8th, 11th, and 12th, standing in the stairwell of the bus while it is parked at the school, motioning to the victim to approach him, showing her a piece of candy. During each occasion, once the girl is within arm's length, Ojeda pulls her toward him, physically sexually batters her out of the sight of the other students in the stairwell by touching her under her clothing, then gives her candy and she goes back to her seat. 
During a post-Miranda interview, Ojeda told detectives he sexually battered the two girls eight times. He was booked into the Polk County Jail, South County Jail in Frostproof, where he is being held on no bond until a first appearance hearing at 1:00 p.m. on Friday, April 15, 2016. When he was arrested, he had candy in his pocket.
The investigation is ongoing, and detectives will continue to interview all of the school children Ojeda had access to and their parents, to identify any other potential victims. 
According to the Polk County School Board, Ojeda drove a school bus for three different schools: Bus number 0603 for Horizons Elementary, Boone Middle, and Ridge Community High. He has been employed as a PCSB bus driver since April 2007 and the school board has suspended him without pay.
Please contact the Polk County School Board for any additional questions about Ojeda's employment history or current employment.
If anyone has information or suspicions about Ojeda they are urged to contact Lieutenant Ian Rylott at 863-298-6200.