PCSO Detectives Seeking Information On Whereabouts of Attempted Murder Suspect Dontavious Grant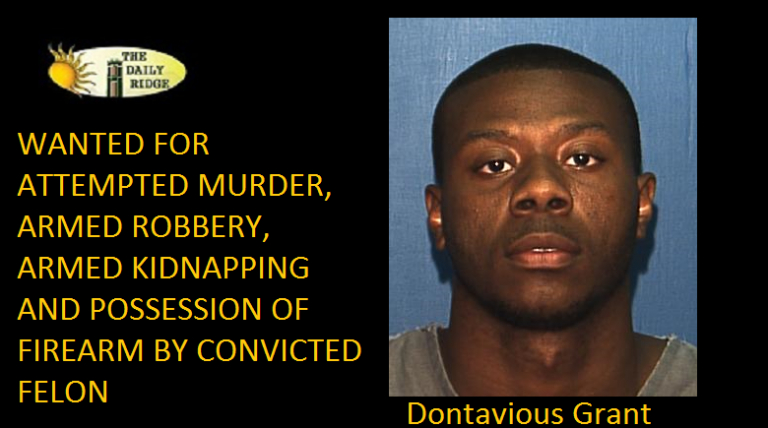 PCSO Detectives are asking for the public's help in locating 22-year-old Dontavious Grant, whose last known address is 1831 3rd Street NW in Winter Haven. 
Grant has a Polk County Warrant for his arrest for Attempted Murder, Armed Robbery, Armed Kidnapping, and Possession of a Firearm by a Convicted Felon.
In May 2014, Grant was sentenced to 2.5 years in prison for armed robbery, which occurred in Polk County in March 2011. He was released from state prison in June 2015.
Dontavious Grant is 5'10" tall, 180 lbs., and has the following tattoos:
LEFT ARM: "TB," dice, flames, man with a gun
RIGHT ARM: "?," crosses, "love"
OTHER: "Armesha," "Drama," and a mask with money
Anyone with information on Dontavious Grant's whereabouts is urged to contact the PCSO at 863.298.6200. He is to be considered ARMED AND DANGEROUS. Attached is his 2015 Dept. of Corrections mugshot.
ANYONE WITH INFORMATION WHO WANTS TO REMAIN ANONYMOUS AND BE ELIGIBLE FOR A CASH REWARD IS ASKED TO CALL 1-800-226-TIPS or LOG ONTO www.heartlandcrimestoppers.com. ANONYMITY IS GUARANTEED! iPhone and Droid users can download a free tip submit app to anonymously report crime. To install these free apps, please visitwww.tipsoft.com.