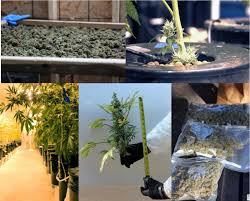 Auburndale, Florida – On Wednesday, February 10, 2016, a Tampa Electric Company worker was looking into a power problem at a residence on Dixie Drive near Auburndale when he detected unusual wiring near the residence located at 1342 Dixie Drive, Auburndale. The TECO worker also noticed a strong odor of marijuana coming from a barn/garage located on the property. The TECO worker called the Sheriff's Office.
Polk County Sheriff's Office High Intensity Drug Trafficking Task Force (HIDTA) detectives obtained a search warrant and executed the warrant on Thursday, February 11, 2016. Inside the barn/garage, HIDTA detectives discovered 111 marijuana plants inside two separate growing rooms. In another area of the structure detectives found numerous pieces of grow house equipment to include, 24 high intensity light bulbs, 11 ballasts, nine hoods, an industrial sized cannabis grinder machine, a vacuum sealer, audio monitor, soil, chemicals, plastic pots, buckets, and a digital scale. In addition, detectives found a drying screen with a large amount of harvested marijuana buds lying on it.
Inside the residence, HIDTA detectives discovered a loaded 12-gauge shotgun, an audio monitor, and approximately three pounds of marijuana packaged for sale.
Tampa Electric Company investigators responded to the residence and located an underground electrical tap where the owner of the property was stealing electricity; TECO investigators estimated the total cost of stolen electricity to be $3,605.93.
Detectives located and arrested Philip James Prior, III, of 1342 Dixie Drive, Auburndale, charging him with Armed Trafficking in Cannabis, Manufacturing Cannabis, Possession of Drug Paraphernalia, Maintaining a Dwelling for Drug Trafficking, and Grand Theft of Utilities. Detectives also arrested Linda B. Labounty, also of 1342 Dixie Drive. Labounty was charged with Armed Trafficking in Cannabis, Manufacturing Cannabis, and Possession of Drug Paraphernalia.
Prior's criminal arrest history is extensive, dating back to the 1970s in New York state where he was arrested three times for grand larceny and endangering the welfare of a child. In 1990 he was charged with custodial interference, 2nd degree kidnapping, and burglary. Prior also was arrested in New York in 1990 on federal fraud and false statement charges. In 2008, he was federally charged in New York with possession of marijuana with the intent to distribute, and smuggling marijuana.
Prior was also arrested in Mississippi in 2008 on a controlled substance violation. Prior has been arrested 4 times previously in Florida, including an arrest in 1975 for grand larceny by Tampa PD, violation of probation and resisting a law enforcement officer in 1979 (Hillsborough County), another violation of probation in 1983, and aggravated assault with a deadly weapon without intent to kill in 2000 (Davenport PD).
During the investigation, detectives initiated civil forfeiture proceedings on a 30-foot Scarab, twin engine speed boat and trailer and a 2016 Chevrolet 2500 HD pickup truck.
Both Prior and Labounty were booked into the Polk County jail without incident.