Welcome, World Travelers! Guardians of the Galaxy: Cosmic Rewind is a Cosmic Blast!
by James Coulter
I would say Guardians of the Galaxy is my favorite Marvel movie of all time, but that would be a lie. Guardians of the Galaxy: Vol. 2 is my number one favorite, while the original movie is my fourth favorite. (For the record, Avengers: Infinity War and Thor: Ragnarok are my second and third favorites, respectively.)
So, when a Guardians ride was announced in 2017, I was pumped. Finally, we would have an official Marvel attraction at Disney World and an actual roller coaster at Epcot. (Test Tracktechnically doesn't count.) And it was going to be based on my favorite Marvel franchise? Needless to say, I was hooked! (You could say—hooked on a feeling! Ba da da daa!)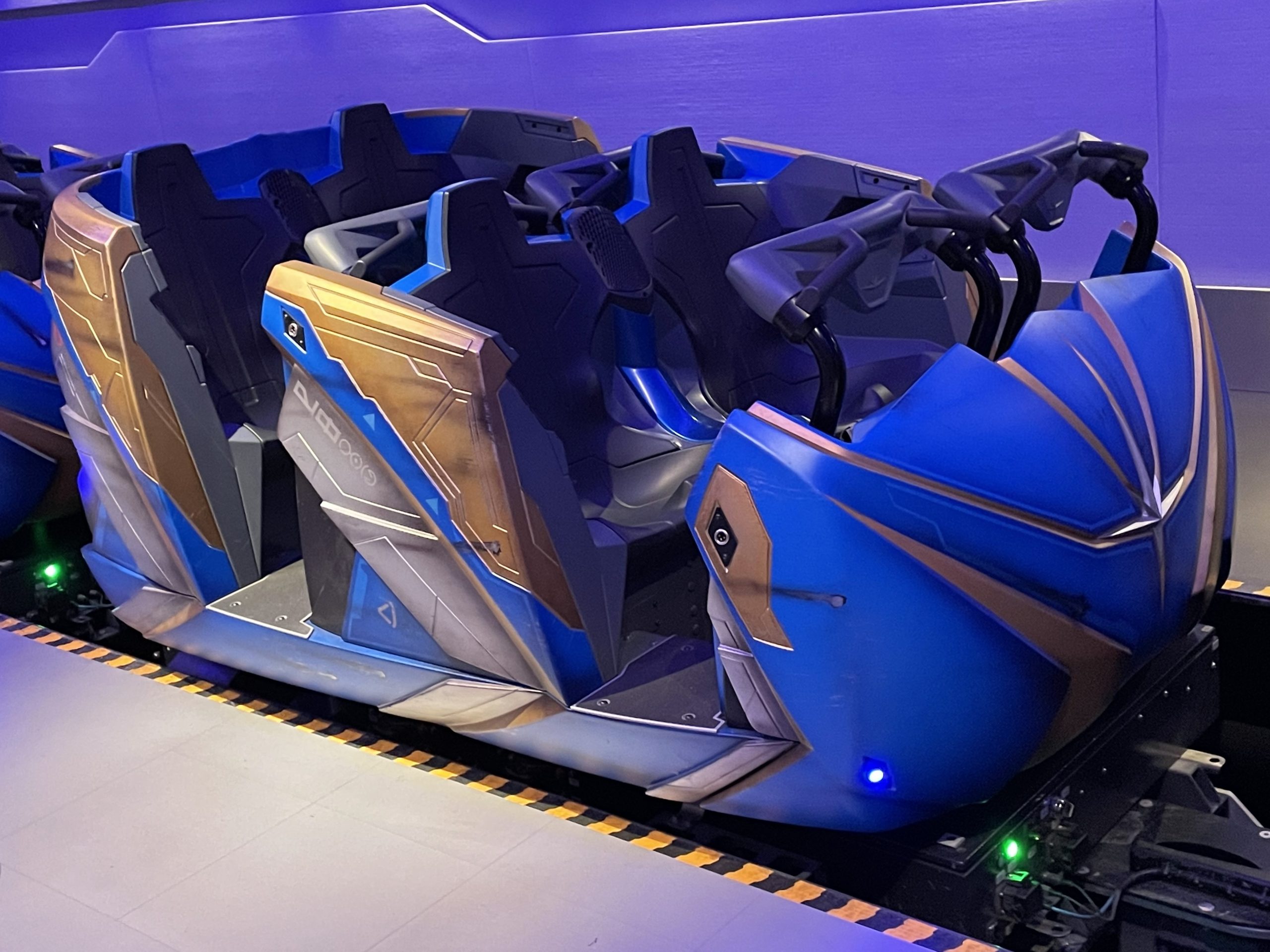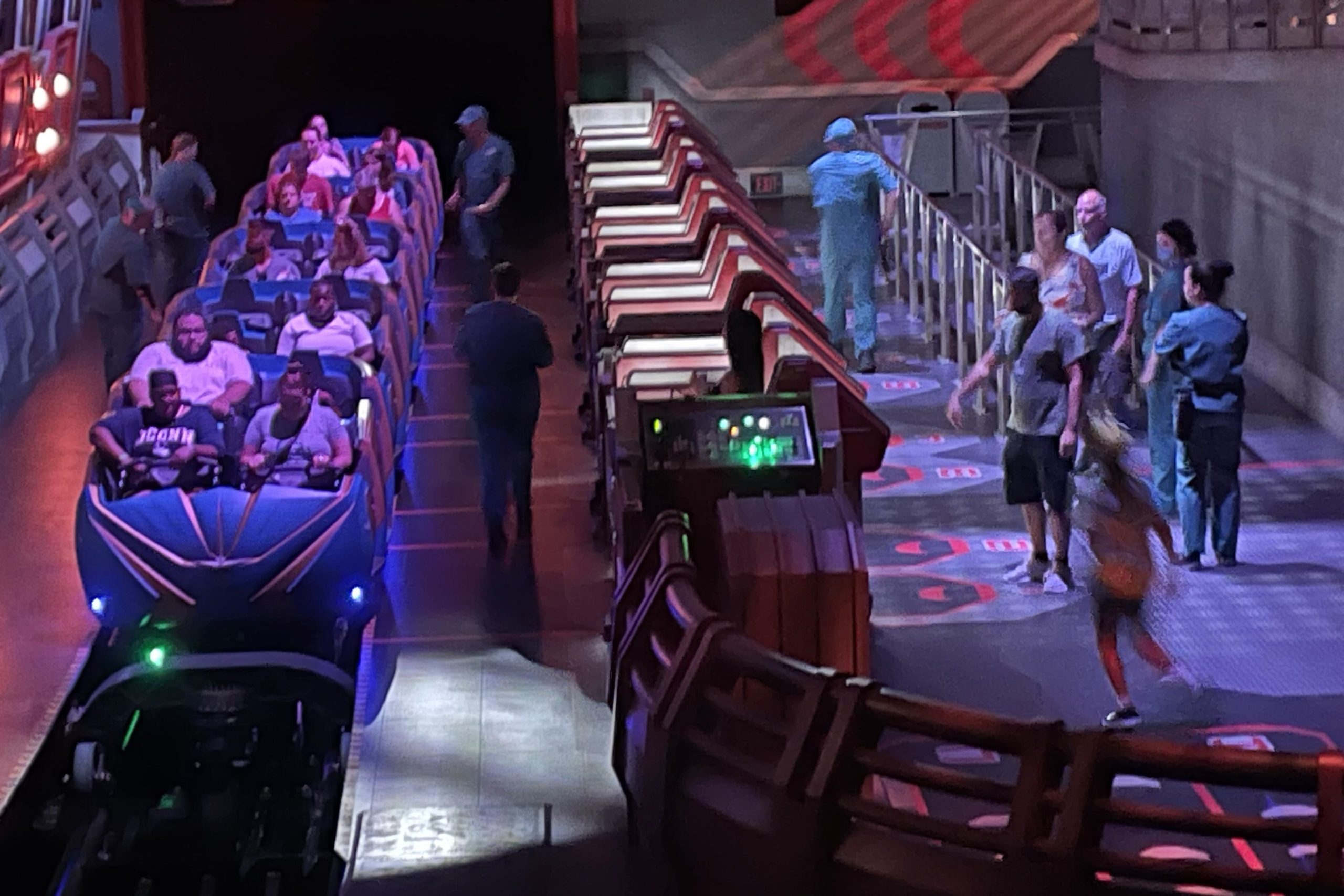 Finally, this May—five years and one global pandemic later—Guardians of the Galaxy: Cosmic Rewind made its grand debut, just in time to celebrate both Walt Disney World's 50th anniversary and Epcot Center's 40th anniversary.
And—I couldn't ride it. Not yet!
The attraction opened on Memorial Day weekend, right before the annual passholder summer cut-off dates. There was a special annual passholder sneak preview hosted earlier that month, but while I qualified, I did not make the cut. I had requested media credentials for its press preview, but, again, I did not make the cut.
Three months passed, and my folks and I went on vacation to Walt Disney World. I made a park reservation for Epcot Center, but with the expectation that I most likely would not ride Cosmic Rewind. I either had to reserve a spot on the Virtual Queue (which, if you've read my review of the system, I am not a big fan of) or purchase a Lightning Lane pass for $15 (which, if you've read my review, I'm also not a big fan of). As a last resort, if I could not acquire either, I was prepared to march down to Guest Services, show my press pass, and request clearance to ride it. (Something I was fully expecting would not happen).
The day of my Epcot trip, at approximately 1:50 p.m., I sat in the Connections Café, drink in one hand, cell phone resting on the table, my free finger impatiently hovering over its screen. I opened the My Disney Experience app, opened the Virtual Queue for Cosmic Rewind, and, five minutes before 2 p.m., repeatedly pushed the refresh button, waiting for 2 p.m. to arrive and the "board" option to appear. 2 p.m. finally arrived, the "refresh" button switched to "board", I pressed the button, and—I received a boarding pass!
Maybe it was pure luck. Maybe it was because I recently purchased a newer, faster phone model. But I finally had a chance to ride the ride I most wanted to ride of all time! Granted, I had to wait three hours until my boarding group was called, but once it was called, I ran and skipped to the attraction queue with the song, "I've Got a Golden Ticket!" playing in my head.
I used the restroom one last time. I checked in for the Virtual Queue. I went online and waited. I watched the pre-shows. I went to the boarding station. I strapped myself into the ride vehicle and placed my belongings at my feet. I rode the ride, and—
It. Was. AWESOME!
The conceit behind the attraction is that Xandar has opened an official exhibit at Epcot Center showcasing the planet and educating the public about its history, culture, and geography. They even set up a special teleportation area to transport guests to their spaceship currently in orbit. There, they reveal the Cosmic Generator, which provides power to the ship and the facility on earth. Unfortunately, the generator is seized by a giant Celestial, who wishes to pass judgment on Earth by going back to "the very beginning." Fortunately, the Guardians are at hand to save the day, and everyone else has a chance to go along for the ride.
The best way for me to describe the ride is that it's essentially Space Mountain combined with the thrills of Rock n Roller Coaster and with the same level of immersion as Flight of Passage. Honestly, comparing it to those two roller coasters is the best point of comparison. It's much more thrilling than Space Mountain, but it lacks the intense speed and inversions of Rock n' Roller Coaster. Essentially, it's a greater thrill ride than the former, but not as exhilarating as the latter. Overall, it's a happy medium between the two.
The attraction's greatest selling point is its overall innovation. The entire attraction utilizes state-of-the-art projection screens that play scenes that synchronize with the ride. The ride vehicles are like Omnimovers in that they rotate to position guests towards the action playing out before them. One moment, you're flying forward; the next, your vehicle rotates backward and launches you at high speed; and then it rotates you a full 360 as you swivel and swirl through the boundless recesses of space, occasionally hopping through wormholes to warp to different places and even time. The overall experience is truly unique and unlike any other at the Disney Parks, and a real pinnacle of Disney Imagineering.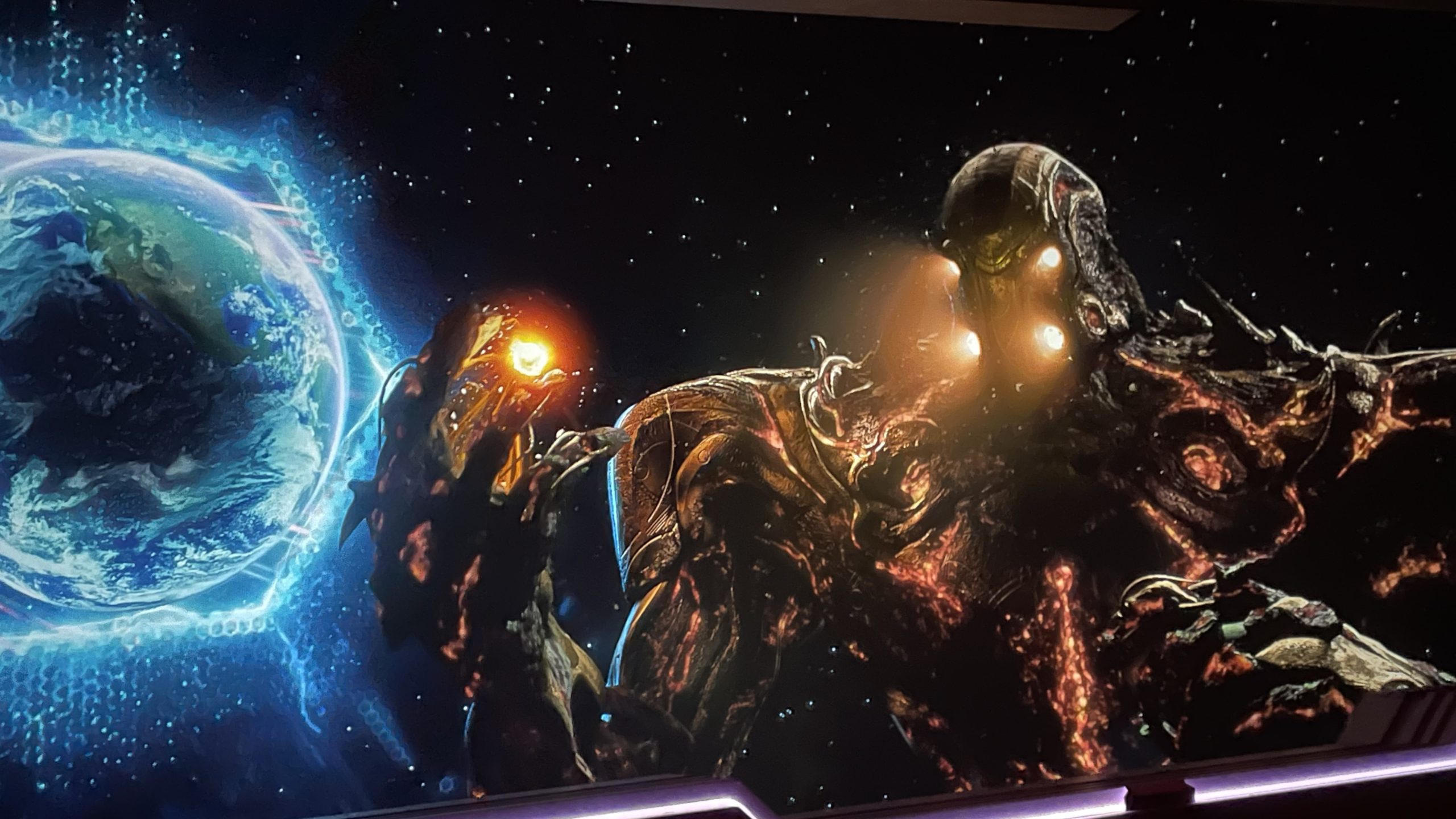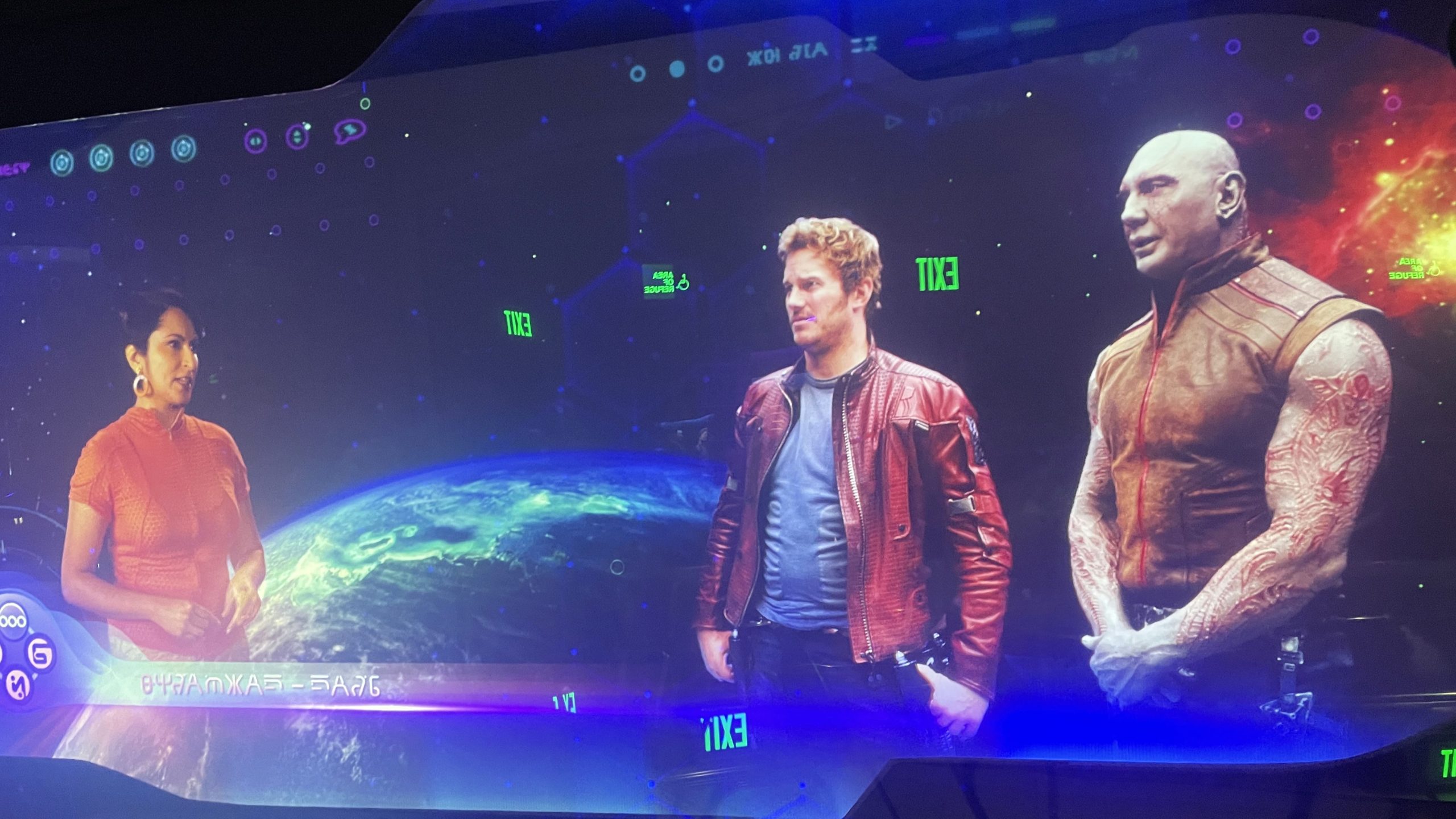 Of course, what would anything Guardians-related be without an "awesome mix tape" soundtrack. The coaster launches riders with one of six different pop songs. The song I rode along to was "Everybody Wants To Rule The World" by Tears for Fears. I felt with was rather fitting, as it was literally about somebody wanting to destroy the world. Other songs include "September" by Earth, Wind & Fire, "Disco Inferno" by The Trammps, "Conga" by Gloria Estefan, "I Ran" by A Flock of Seagulls, and "One Way or Another" by Blondie.
Does the ride have any downsides? A few. First, like most modern attractions, Cosmic Rewind overutilizes screens. Most of the Guardians of the Galaxy characters "interact" with guests through screens and projections. Despite early concept art for the queue, which hinted at an animatronic Groot and Rocket Racoon, there are no animatronics. Say what you want about Mission: Breakout in Disney's California Adventure: it may be an overlay for Tower of Terror, but at least it has an animatronic Rocket.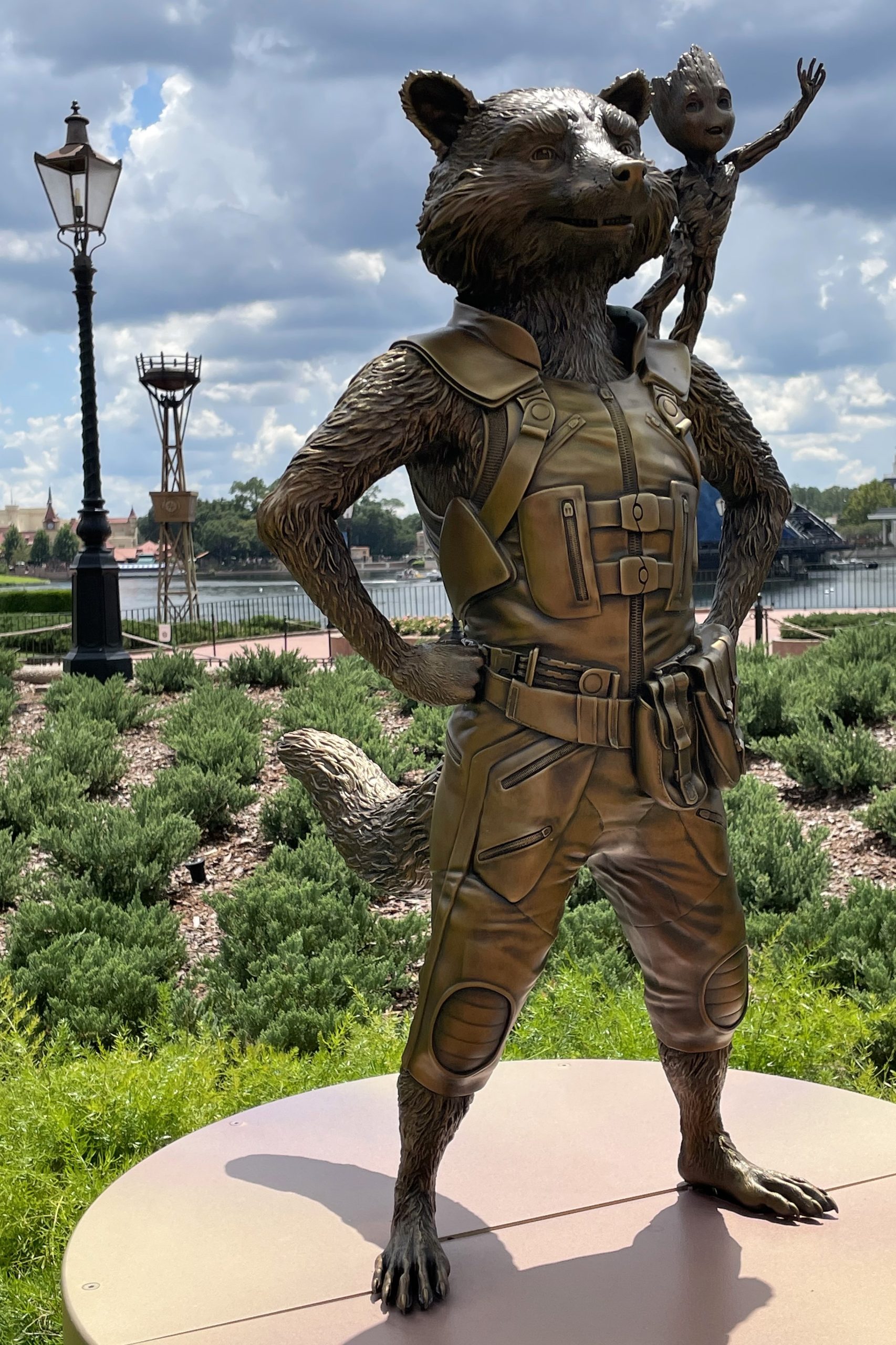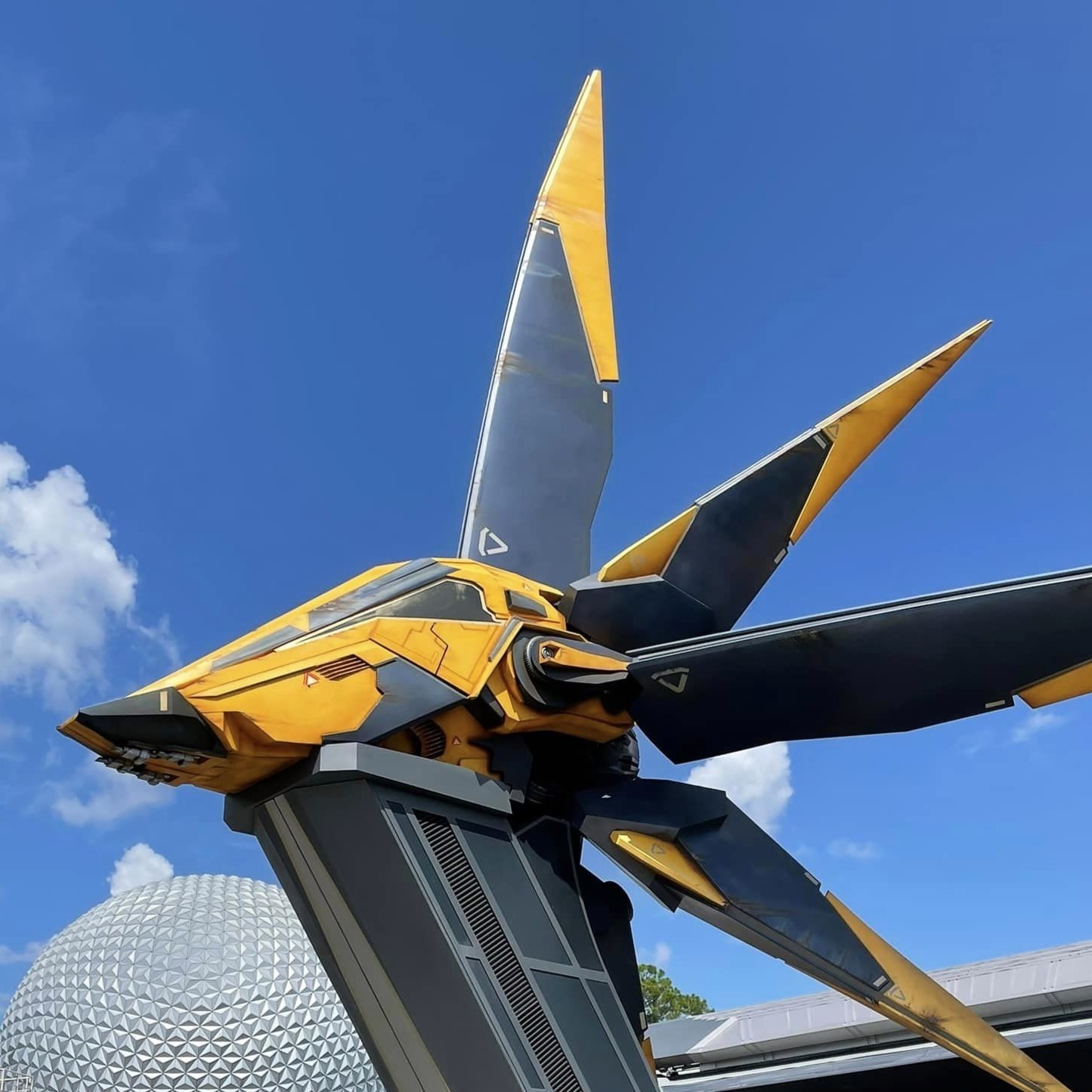 Also, the placement in Epcot Center seems tonally inconsistent with the park. Epcot Center, specifically Future World, was designed to showcase scientific and technological innovation. This ride, on the other hand, showcases the MCU. True, the ride queue has the look and feel of an Epcot attraction with its emphasis on education (about a fictional planet). And Peter Quill does mention in a video interview that he visited Epcot as a child and expressed his desire to visit Epcot attractions that no longer exist.
Perhaps the biggest disappointment is the ride's location. The entire queue is housed within the former ride building for Universe of Energy. While the attraction upon its closing was slightly dated, as it starred a young Ellen DeGeneres and Bill Nye the Science Guy, its overall theme about energy and environmentalism (while also slightly dated) remained relevant, especially during a time of an escalating energy crisis and global warming. That such a ride was replaced by a comic book attraction seems nearly tone-deaf.
But minor nitpicks and gripes aside, I would be lying if I said I hated this attraction. It's a thrill ride based on my favorite Marvel franchise. What's not to love? My only disappointment is that the virtual queue will remain in effect for it until further notice—and with the Tron: Light Cycle coaster postponed until next spring, it may be around for much longer. Otherwise, it truly is a ride that's out of this world!
Have you ridden Guardians of the Galaxy: Cosmic Rewind? If so, what do you love most about it? Leave your comments on Facebook.