The Good Times Roll Again at Lake Wales Mardi Gras after Yearlong Absence
by James Coulter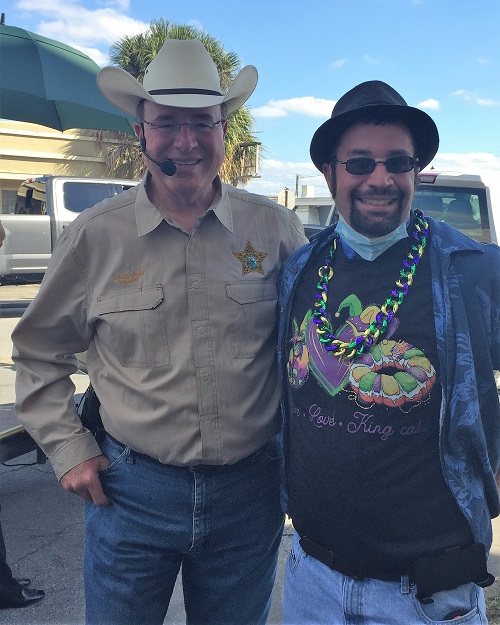 Sheriff Grady Judd works hard to perform his duties. Even then, in-between his involvement at the Jeepin With Judd fundraiser in Bartow and addressing the media regarding an officer-related shooting earlier that day, the honorable sheriff found enough time in his busy schedule to appear in the annual Lake Wales Mardi Gras Parade on Saturday afternoon.
Sheriff Judd regularly appears with officers from the Polk County Sheriff's Office in parades across the county. He especially loves the Lake Wales Mardi Gras Parade, with its colorful costumes and festive floats.
"Maybe New Orleans can take a lesson or two from how some of these guys have dressed up and partied," Sheriff Judd said. "I have seen a lot of people that did a lot of work to have this awesome party [with the] dresses and outfits."
The annual parade made its epic return after a year-long absence due to the ongoing pandemic. Sheriff Judd considered it a relief to see the parade make a comeback and allow the good times to roll once again.
"COVID took away everything and ruined our social life. Even though we had to protect ourselves from a dangerous virus, our mental health is important too," he said. "So when you see all of the partying, when you see all of the people here today, this is Polk County and Lake Wales as I know it, [with] friends all getting together to have a great time."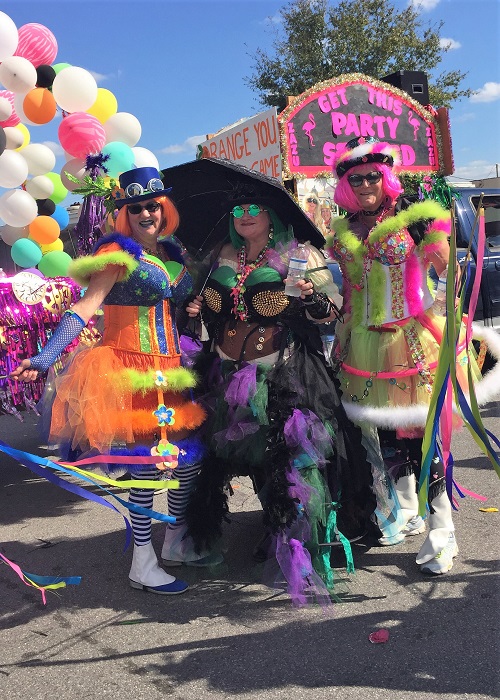 For 30 years, Lake Wales Mardi Gras has let "the good times roll" with live music, vendors, and the signature parade through historic downtown. What initially started as a memorial service for a late restaurant owner has since evolved into the largest Mardi Gras event in Central Florida, drawing in thousands of attendees annually.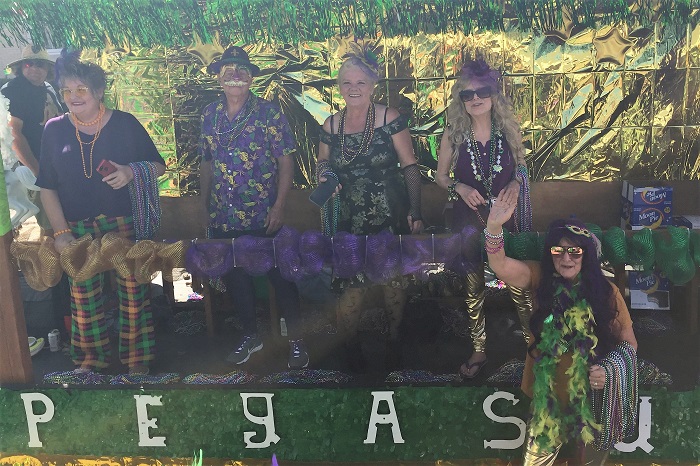 As the annual tradition was unable to be hosted last year, its comeback this year was a great relief for many locals and visitors and a sign that things are slowly but surely returning to normal. Joshua Curchy has been serving as the president of the Lake Wales Mardi Gras Committee for six years. Being able to host the event this year brought back fond memories of the old Mardi Gras events he attended in his youth.
"It is over and exceeded our expectations by far," he said. "We love our community and we will keep giving back. Everyone is ready as were we, and we were encouraged by the crowds."
The parade on Saturday afternoon was his favorite. More than several dozen floats and units started along Central Avenue in Historic Downtown and made their way to Lake Wailes Park where the main festivities were being held. Being able to participate in this annual tradition is his favorite part bar none.
"For me, [the best part] was running around the parade like a mad man, getting everybody excited, passing out beads, and getting down there to see the crowd," he said.
Lake Wales Mardi Gras kicked off Friday evening with the Kick-Off Party in Lake Wailes Park, starting with the Glow Run 5K and continuing through the evening with live music performed by local bands such as Almost There and B Haven. The festivities continued the next day with food trucks, vendors, and live musical performances.
Leslie Grodin, who served on the krewe for the Walesbilt Hotel, and who also serves as a member on the Lake Wales Mardi Gras committee, loved being able to host the event and draw in their usual crowds.
"It is great we are bringing it back to Lake Wales, and it is certainly enjoyed," she said. "I enjoy most the people of everyone coming out and enjoying the time."