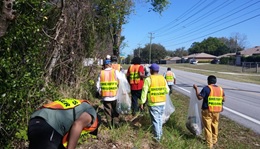 The Polk County Sheriff's Office Inmate Work Program accomplished 281 projects in 2021, and saved the county over a million dollars in the process.
The Inmate Work Program provides convicted criminals –those who commit crimes such as traffic violations and drug crimes – to pay their debt to society through work instead of being sentenced to jail. This is an alternative sentencing option judges can choose to administer.
Picking up trash is one of the primary duties assigned to those in the program, but they also help keep parks, schools, public facilities, and cemeteries clean. Throughout the year, they painted government buildings; completed landscaping projects for county, state, and city properties; cleaned up the Florida Sheriff's Youth Villa; filled sandbags; and participated in five Keep America Beautiful events.
Inmates worked more than 111,656 hours and ultimately saved taxpayers $1,135,541.52 (calculated at $10.17 per hour). In addition, the inmates themselves pay to participate in the program, funding the cost of the program.
They collected 35,843 bags of trash and 3,458 discarded tires, and cleaned almost 1,000 miles of roads in 2021."This program is a win-win. It not only saves taxpayers millions of dollars, it also allows those who have violated the law and who have jobs to keep them. Additionally, they can continue to support their families and feel proud that their hard work has made Polk County an even better place to live, work, and visit."– Grady Judd, Sheriff